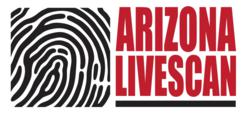 with livescan technology rejection rates at less than one percent, it is the preferred method of fingerprint submission
Phoenix, AZ (PRWEB) April 25, 2012
Arizona Livescan will provide free digital fingerprinting on May 10, 2012, from 9 am to 6 pm for Arizona teachers and student teachers who need to apply for a Fingerprint Clearance Card. "Providing teachers with a day of free fingerprinting is our way of letting them know how much we admire and appreciate the dedication that they bring to their profession," says CEO and Founder, Paula Wilson.
Livescan technology provides immediate verification of fingerprint quality, virtually eliminating rejected prints and avoiding the unnecessary delays common with ink-based fingerprints. "With livescan technology rejection rates at less than one percent, it is the preferred method of fingerprint submission," says Wilson, "and a much cleaner experience for our customers." Once fingerprint images are collected they are transferred to a standard fingerprint card or one that the customer supplies using an FBI certified printer.
Arizona Livescan fingerprinting services are certified by the FBI and accepted by all municipal, state and federal agencies. Teachers and student teachers who are interested in learning more about how to take advantage of free fingerprinting can visit http://www.ArizonaLivescan.com and select the Free Fingerprinting tab or call 602-246-3444.
About Arizona Livescan
Arizona Livescan, Phoenix's only walk-in and mobile livescan fingerprinting facility, helps organizations and individuals meet their fingerprinting requirements. Arizona Livescan, a BBB accredited and TSA certified agency, serves the Phoenix metropolitan area with a convenient walk-in location and mobile fingerprinting units using livescan technology, the most accurate and trusted technology in the fingerprinting industry. Arizona Livescan is located at 2432 W. Peoria Ave, Bldg. 2, Ste. 1026, Phoenix, AZ 85029.
###