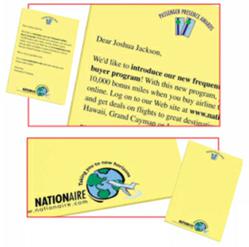 Rapid City, SD (PRWEB) April 30, 2012
The personalization program offered by Baslercoinc allows companies to have one-to-one communication with their clients. Companies can write a brief personalized note to each of their current and prospective customers, detailing the products and services offered to their different target markets. Targeted information can be scheduled for delivery directly to customers/prospects by using the mailable option. The personalization program combined with the mailable option offers a unique, high impact, contact with each and every customer/prospect.
Clients who receive a personalized Post-it® Note pad or cube from company staff will appreciate their unique gift and will use them on a regular basis, keeping the company's contact information in front of their eyes and fresh in their minds. Visit http://www.baslercoinc.com/personalized.html to review some of the options available for personalization. "The two-page cover letter offered by our Personalization Program is a great way to introduce your company name, products and services to your different target markets" says Eric Graves, National Sales Manager of Baslercoinc.
For companies interested in one-to-one communication with their clients/prospects, leaving a personalized gift with buyers is a very powerful way to make sure company contact information stays on their desk for a constant reminder of who to call. The mailable option is a very effective way to reach multiple target markets and still provide a personalized Post-it® Note pad or cube as a gift.