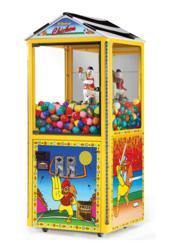 "It tied the bulk vending operator and amusement operator together,"
Oceanside, NY (PRWEB) April 25, 2012
Vending Times, a national monthly periodical for the vending trade has written a 3 page story on the history of the chicken machine, ParSal Vending Supply and its founder, Frank Parisi.
ParSal's All American Chicken Machine was a highlight of the National Bulk Vendors Association and the Amusement and Music Operators Association recent trade show in Las Vegas. The All American Chicken Vending Machine is the most technologically advanced, children's amusement vending machine in the industry. This new vending machine is an "eggceptionally profitable" solution for operators.
This machine- although modern in design with the addition of the dollar bill acceptor, optional token vends, multi-play discounts, and other advancements-touches on the nostalgia of the late 1970's and early 1980's of a famous chicken themed vending machine which was a favorite of amusement and bulk operators throughout the world. And with the improvement in the quality of electronics and operation and the sturdy, all-steel construction, the new All American Chicken Vending Machine is getting major attention from operators and retail stores alike. This machine is becoming widely acceptable and favored both nationally and in the international markets. ParSal has added a slogan above its logo "We Serve The World's Children" to recognize the company's current status of supplying the All American Chicken Vending Machine around the world.
The article goes on to give the history of ParSal Vending Supply and Frank Parisi. The article explains the long and rich history of its founding members as well as where the company is planning for the future. ParSal plans to become a manufacturer of amusement and bulk vending machines for young children as well as the toys and capsules that are dispensed from each machine. ParSal has a network of distributors that include: All Star Vending, American Vending, Big Apple Vending, Brady Distributing, Buyrite Vending, Candymachines.com, Cardinal Distributing, Ford Gum, Gold Coast International, Greater America Distributing, H.A. Franz, Lieberman Companies, Mountain Coin, Oak Manufacturing, Pioneer Sales and Service, S&B Candy and Toy, Shaffer Distributing, Specialty Coin and TNT Amusements.
The article can be read at http://www.vendingtimes.com – feature story under the Bulk Vending News & Features section.
The ParSal website has a video of the machine which can be viewed at http://www.parsalvending.com.
Details on the All American Chicken Machine may be had from ParSal Vending Supply LLC at (516) 678-3600. The company is based at 3710 West Oceanside Rd., Oceanside, NY 11572, and is online at parsalvending.com.