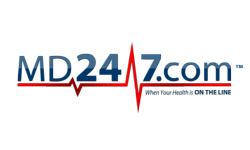 Visit http://www.facebook.com/md247dotcom!
Tampa, FL (PRWEB) April 24, 2012
On Tuesday MD247.COM issued a nationwide notice explaining that telemedicine is the use of telecommunication and information technologies in order to provide clinical healthcare at a distance. MD247.COM Founder explained that he preferred to think of the notice as a "warning," more than something as bland as a "notice." The notice was issued by the telemedicine leader as a way to usher in a brave new era in medical treatment, knocking out the bureaucrats from the insurance companies.
MD247.COM grants ever person the opportunity to charter his or her own bright and happy health future through the use of the best, and most advanced, technologies available to the field of "in home" or "at work" telemedicine. This means that instead of visiting a clinic for diagnosis of a potential whooping cough outbreak, during which it would be possible to continue the outbreak in the area, whoever is ill gets the luxury of staying home and making a simple call to the MD247 telemedicine hotline. From that call, a path for quick treatment and speedy recovery is illuminated.
MD247 intends to "put a doctor in every home" by the year 2015, granting every person in the United States the right to avoid long waits in disease riddled waiting rooms. With such a simple change, the telemedicine specialist will usher in a new era in which both patient and doctor are the most important part to any medical meeting once again and the bureaucrats are lost in the changes brought about by telemedicine.
Seminole Florida based MD247 (MD 247; MD/247; M.D. 247; MD247.COM) provides discounted telemedicine healthcare services nationwide to families, and discounted wholesale telemedicine healthcare to businesses. MD247 has successfully provided 25,000 people the ability to talk to a doctor twenty-four hours a day, talk to a nurse twenty-four hours a day, receive discounted prescription drugs and receive discounted in-person healthcare services. In addition to discounted healthcare services, MD247 provides support to groups supporting the employment of veterans of the United States Armed Services. MD247 services, as well as informational blogs, can be found for review online at http://www.md247.com.