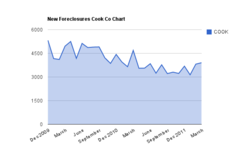 Chicago area new foreclosure filings still on the rise
Chicago, IL (PRWEB) April 25, 2012
For 2012, month after month foreclosures have been steadily rising each month throughout the six counties of Cook, Will, Kane, Lake, McHenry, and DuPage. The total home foreclosures in January for the combined counties were 5,138. In February, the total number jumped to 6168 - almost a 20% increase from January. In March, the number of foreclosures in Chicago area increased even higher to 6,442 - a 5% increase from February. Overall, there was about a 25% increase from January to March of 2012.
Although foreclosures are down overall in the Chicago metropolitan area, foreclosures are still a severe problem nation wide. From the second half of 2010 until the second half of 2011, foreclosures filings were down by almost 19% throughout the six Chicagoland counties. There were nearly 80,000 filings in the second half of 2010 and almost 65,000 during the second half of 2011. Comparing the total year of 2011 to 2010, there was about a 20% decrease overall in 2011 in the six Chicagoland counties.
The foreclosures, however, have increased from the last quarter of 2011 until 2012's first quarter. From October 2011 through December 2011, foreclosures reached 16,280 for the six Chicagoland counties. From January 2012 – March 2012, home foreclosures reached 17,748. This is about an 8% increase compared to the last quarter of 2011. It is entirely possible that the decrease in the second half of 2011 is due to the foreclosure courts overflowing with foreclosure cases. The median time length to completely process a foreclosure in Cook County is one year. The number of foreclosures in Cook County has single-handedly been higher than the other 5 counties total for over the past three years.
In previous years, "shady" loans were frequently being blamed for the influx of foreclosures. Nearly 70% of homeowners in the Chicagoland region, however, had conventional, fixed rate mortgages prior to their homes being foreclosed. In actuality, the primary cause of foreclosures is unemployment. There have been several federal funding programs created over the years to help struggling homeowners. These federal modification programs are aimed toward modifying and adjusting the homeowners' mortgage payments based on the homeowner's income. Some popular programs include the "Making Home Affordable Plan" (Nationwide) and, most currently, the "Illinois Hardest Hit Hit Program" (statewide). Many of these mortgages still result in nonpayment, delinquency, and ultimately foreclosure. Unfortunately, these programs usually only provide a temporary fix. Despite efforts to modify and renegotiate loans, foreclosures still continue to be strikingly high.
It comes as no surprise that there is a strong correlation between people losing their jobs and also losing their homes. Many of these borrowers lost their jobs or were victims of budget cuts which led to the inability to make mortgage payments. The unemployment rate being mentioned includes those who were previously employed and were actively seeking employment. From 2005-2008, the unemployment rate in Illinois varied from below 5% to just over 6%. In 2009, it jumped to 10%, 10.4% in 2010, and 9.4% in 2011.
The Illinois Foreclosure Listing Service (ILFLS.com) is a Chicago-based subscription service that provides up-to-date data on foreclosure filings and related activities throughout the Chicago area, including Cook, DuPage, Lake, Will, McHenry, Kane and Kendall Counties. ILFLS recorders are assigned to every courthouse in the coverage area, which they visit daily to collect the latest data. ILFLS provides a searchable database and a broad array of productivity tools, all designed by and intended primarily for real estate professionals.