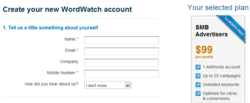 This allows our users to acces our app immediately after signing-up, and that's a huge deal for us.
San Jose, CA (PRWEB) April 25, 2012
AdWords bid management startup WordWatch has rolled out a faster, more efficient sign-up process for use with its cloud-based app. The new "Live Sign Up" downloads new sign ups' AdWords information at the same time that a WordWatch account is created. Previously new sign ups would wait up to four hours to have their AdWords account information synced.
"With 'Live Sign Up' we hope that WordWatch will be easier to use for our new customers. It's been important to us that they are able to use the app as soon as possible after signing up, and that is exactly what we've done," Jacques van der Wilt, COO of WordWatch, said.
The enhanced sign-up process went live yesterday morning, one month after the apps one-year anniversary.
About WordWatch:
Founded in 2009, WordWatch is an online AdWords bid management application designed for small business advertisers, marketing consultants and freelancers, and small agencies. The application simplifies the daily management of keyword bids and constantly optimizes a customer's AdWords account. WordWatch has offices in San Jose, Amsterdam and Krakow.