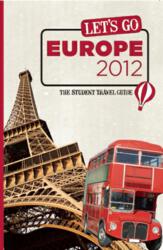 ...a taste of what's new in Europe and what this means for travelers.
Cambridge, MA (PRWEB) April 25, 2012
From Great Britain down to Greece, Europe is a whirlwind of change this summer. Luckily, the student adventurers at Let's Go Travel Guides are offering travelers a sneak peek into Let's Go Europe 2012, the Let's Go guide with the freshest and hippest inside scoop on Europe to date.
Here's a taste of what's new in Europe and what this means for travelers:
1. Hit the 2012 Olympics. The XXX Olympiad will transform London this summer, with the world's best athletes competing, and droves of tourists from around the world cramming the cosmopolis to watch them. This one's for all ages, backgrounds, and sizes. Don't forget to bring family and friends along for the ride—even the stay-at-home types will be thrilled by a London on fire.
2. Say goodbye to Dutch "coffee." Foreigners are no longer allowed into the Netherlands' 670 famous cannabis coffee shops. According to the Dutch cabinet, the new measure will "reduce nuisance and drugs tourism." Whether this new restriction will harm or simply reshape tourism in Amsterdam remains to be seen. However, keep in mind that nothing's barring visitors from peeking their heads inside the windows for a glimpse of this mysterious hub of Dutch culture.
3. Enter the iron gates of the Güell Palace. The famous Palau Güell in Barcelona, Spain just reopened after an eight-year series of extensive renovations and restoration. Travelers can play the role of a 19th century member of high society in this lavish mansion designed by the Catalan architect Antoni Gaudí. For students taking classes abroad, this is the ultimate study break.
4. Take a stroll through the International Architecture Exposition. Held August 29th through November 25th, the 13th International Architecture Exposition in Venice will reinvigorate the artistic souls of travelers from all over the world. While in town, be sure to take advantage of the recommendations in Let's Go Europe 2012 for the best budget deals in an otherwise expensive city.
5. Brush up on local history and culture at the Museum of Liverpool. The shiny new Museum of Liverpool tells the wonderful story of how the port, its people, and their creative and sporting history have shaped the city. With a variety of galleries, this beautiful landmark building sits on Liverpool's famous waterfront. Admission is free, which is a plus for wallet-strapped backpackers trekking through the city.
With the latest and greatest tips on where to trip and where to skip, Let's Go Europe 2012 offers a wide selection of hostel listings, restaurant reviews, sights, and nightlife recommendations. Whether travelers are studying abroad in Florence or taking a one-week backpacking trip, Let's Go can help by offering suggestions on the roads not taken—risk-free. From German beer halls to Roman ruins, travelers will be guaranteed a truly unique travel experience.
About Let's Go, Inc.
Let's Go publishes the world's favorite student travel guides written entirely by college undergraduates. With pen and notebook in hand, and a few changes of underwear stuffed in their backpacks, Let's Go student researchers go across continents, through time zones, and above expectations to seek out the best travel experiences. Let's Go has been on the road for 50 years and counting; and on a mission to provide readers with sharp, fresh coverage and socially responsible opportunities to go beyond tourism.
# # #