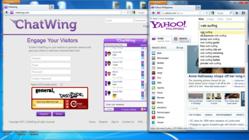 Cambridge, MA (PRWEB) April 26, 2012
Many people believe that surfing the web is more fun with interspersed bouts of chatting. In this way, information travels super fast with different mediums. All over the world, people are looking for best applications to spice up their chatting life. These people don't need to look further with an advanced chat widget known as Chatwing.
Chatwing is more than just any simple widget. At first, it may be compared to any simple application with basic color themes. Some may even think that it is a fanciful application for college students. However, those who used the Chatwing app have experienced a unique chatting experience.
Because Chatwing is straightforward and easy to use, many people are already signing up. It has been observed that Chatwing generated hundreds and thousands of sign-ups during its early release. When it was upgraded, the numbers doubled.
One of the great things about Chatwing is the improved website chat experience. Now, websites are not just 'websites.' They can be transformed into chat lounges with the help of Chatwing. According to a specific study, there are lots of topics that can be talked about in Chatwing. Common topics are relationships, dating, flirting, online chat, love chat, and humor. Some chatters also talked about trends and current events.
Chatwing chatters can also log in using their Facebook accounts. This is already a bonus for Chatwing's connectivity rate. Through this option, people can now send out invitations to each other. It has also been noted that people with advocacies use Chatwing to spread the knowledge about what they are promoting.
Some web chatters also commented about Chatwing's ease of access. Navigating around the chat box is an easy thing to do. To begin chatting, the user must log in. If he doesn't want to use his Facebook account, he can use the guest log in option. He can also select from many avatar displays. In the latest version of Chatwing, the avatar display is smaller so that more messages can fit in the chat panel.
Entrepreneurs also use the Chatwing widget to extend their customer service to the people. In this manner, Chatwing becomes an immediate professional solution.
About Chatwing
Chatwing.com has developed live chat software for websites and blogs. The Chatwing.com website offers users the ability to signup and create a customizable live chat box feature in 1 minute or less. Users have the ability to customize the size, color, and fonts of the chat product. The ability to chat via social media accounts such as Facebook and Twitter enable Chatwing to offer a personal and unique real-time experience to all sites. Chatwing is 100% free web software.