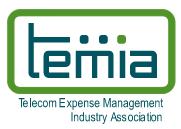 Caveat Emptor now transcends borders and is more important than ever
(PRWEB) April 25, 2012
TEMIA, the Telecom Expense Management Industry Association, the authoritative voice for Telecom Expense Management (TEM) and Wireless Expense Management (WEM) and Mobile Device Management (MDM) Solutions Providers, members confirm that mobile bill shock affects people in all regions of the world including Europe, Asia, Canada and Latin America.
"Worldwide or domestic, the marketplace often preys on the uniformed. Technology expense markets are rampant with unexplained costs which even the smartest of us are unaware. Caveat Emptor now transcends borders and is more important than ever. Real world users, even the brightest of them, must align with competent and relevant experts for oversight. Do not waste our money and do not take the world for granted – find a partner expert to consult with or to manage your mobility and technology services," states Joe Chopek, vice president of operations and business development for WidePoint Solutions Corporation, Inc.
"The pitfall of high roaming charges is usually the result of an assumption that the home carrier will best represent the user from an economic perspective much like a credit card company will negotiate the best transaction rates on behalf of its customers when traveling abroad. In order for travelers and large enterprise businesses to have peace of mind when traveling dynamic tools, such as telecom expense and mobile device management, must be in place to control such costs," said Clay Simmons, director of managed services for Mobility at Dell.
Ben Mendoza, CEO of international Telecom Expense Management provider MDSL, commented, "When in roam, it's important not to do what the Romans do and spend a lot of your time on your smartphone or tablet, uploading images and downloading data – unless you've agreed a plan with your carrier in advance, to limit the rates they charge while you're overseas. For enterprise telecom managers tasked with controlling their organization's telecom spend, this emphasises the critical importance of having a proper policy in place beforehand, plus an effective Mobile Device Management solution that not only allows usage monitoring in real-time but – equally important – gives them the ability to switch off devices over-the-air, if required as a last resort"
Organizations should implement TEM WEM and MDM best practices to prevent bill shocks and unnecessary wasteful spending with:

policies that limit unnecessary use of mobile services
use of TEM/WEM portals to manage procurement of wireless devices and service plans
optimization with real-time analysis to ensure employees have the right plans for their travel
sourcing and contract negotiation to secure more cost-effective plans
validation of charges on bills
accountability and visibility through charge-back reporting of usage and expenses
real-time software to minimize data roaming, misuse and abuse.
About TEMIA
The largest Telecom Expense Management service providers founded TEMIA in 2006. Since that time, TEMIA has grown to 39 members with international corporate headquarters managing over $61 billion of telecom and data spend.
TEMIA's mission is to raise awareness and knowledge of the values and benefits of Telecom Expense Management TEM, Wireless Expense Management (WEM), Managed Mobility Services, (MMS) and Mobile Device Management (MDM) solutions, to improve the quality and value of these solutions through the development and promotion of open industry standards, and industry knowledge.
Register to attend our upcoming webinar, Plan Globally, Deliver Locally: Finding the Smart Balance for Your Organization's International Mobile and Fixed TEM Needs.
For more information about TEMIA, visit http://www.temia.org.