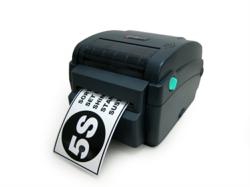 employees are the most important assets of an organization and they deserve to work in an environment where safety and security measures are kept in place
Lake Oswego, OR (PRWEB) April 26, 2012
The safety of a workplace is essential to the success of business operations. It is an employer and management responsibility to form and implement safety systems and programs. Needless to say, employees are the most important assets of an organization and they deserve to work in an environment where safety and security measures are kept in place.
This is why Creative Safety Supply is now offering a new rental program for the LabelTac 4 Industrial Labeling System. This rental program requires no need to purchase a printer and dread the maintenance of the printer. Once you complete your project, simply send back the printer. The rental program can help with any company's budget and can assist in completing your companies 5s project.
For label printing, Creative Safety Supply presents the Labeltac 4 Industrial Labeling System. It is the most cost effective and easiest way to print labels using the custom, easy-to-use software or Microsoft Word. With Microsoft Word, there is nothing for users to learn – just type, hit print, and have the label they want instantly.
Creative Safety Supply commits to address current and emerging needs of employers to ensure work area security. Its website CreativeSafetySupply.com carries products and solutions that perform in ways that give peace of mind to modern-day facility owners and workers across the globe.
Creative Safety Supply manufactures a variety of industry-best floor marking products, as well as the latest 5S, 6S, visual workplace, lean manufacturing and ergonomic solutions. In particular, the website features a wide range of label makers and label printer products.
Echoing a work area safety concern, Creative Safety Supply underscores that label makers play a huge role in keeping a lean visual workplace. With its ever-expanding label printer line-up, the company assists companies in finding the right system for the workplace. The choices include devices that make pipe labels, handheld label makers, barcode labels and rack labels.
Creative Safety Supply helps customers figure out the best and most efficient ways to get things done. As such, the company strives to be able to ship most products the same day that they are ordered, or next business day.
Companies looking for more information should visit http://www.creativesafetysupply.com to learn more.