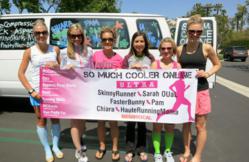 Aspaeris Pivot [Shorts] saved my life during my twenty-one plus miles of the SoCal Ragnar Relay.
New Haven, CT (PRWEB) April 25, 2012
The Aspaeris-sponsored Ultra team, So Much Cooler Online gave a superb performance in the Ragnar Relay SoCal race, finishing in the fastest time for an all-female, six-runner team. They started the 200 mile race in Huntington Beach, CA at 1pm on April 20th and finished in Coronado Island at 6:14pm on April 21st. Despite extremely hot conditions, marriage proposals, night gear, and other distractions along the way, these female athletes ran a spectacular personal best. Having benefited from increased performance in their Aspaeris Pivot Shorts (APS™), the team was free of injury and continued to wear APS post-race for a quick recovery.
"Aspaeris Pivot [Shorts] saved my life during my twenty-one plus miles of the SoCal Ragnar Relay," says So Much Cooler Online team member, Rebecca Walker.
There were 594 teams competing: 566 twelve-person regular teams and 28 Ultra six-person teams. The all-female, So Much Cooler Online Ultra team ran an 8:37 pace, completing the 200 mile race in 29:14:05. They were the fastest all-female, six-person team, 4th fastest Ultra team, and finished 45th overall. The Ultra team leader finished her last leg of 12.8 miles in 1:38. She ran 41 miles total. She credits her success in part to wearing APS before, during and after competition.
"Running so many miles before Ragnar Ultra and then the actual relay miles meant that I was all about recovery, and being in a van with 6 other people for 30 hours made it easy to choose effective, easy recovery methods, one of which was wearing Aspaeris compression shorts…," Sarah, the So Much Cooler Online team leader also known as Skinny Runner, remarked the day after the relay race.
Kari Ricigliano, Marketing Director of Samara Innovations, LLC, notes that "Sarah has actually run three marathons in the past three weeks and has worn APS throughout. We are so excited about the team's outstanding performance and endurance." Aspaeris chose to sponsor So Much Cooler Online because of the members' commitment to sports injury prevention. This is the first Ragnar Relay for the Ultra team, made up of Southern California transplants.
The Aspaeris Pivot Short, a technical compression short designed exclusively for female athletes who want to improve performance, speed recovery and prevent injury, will be available at half price via AspaerisPivotShorts.com as a special trial offer through April 30, 2012. Promo Code: APS4me
About Aspaeris
Founded by Samara Innovations, LLC in 2010, Aspaeris is a female-centric sportswear company that strives to protect athletes from injury and enhance their performance with advanced compression apparel. The Aspaeris Pivot Short (APS™) was created to help prevent non-impact ACL injuries in high-performance female athletes. APS™ is a unique compression short that has two layers. The outer short is a high performance compression short designed to support muscles. The inner short uses patent-pending technology called Dual Sensory Compression Bands™ to help guide the athlete into proper position while she pivots and runs. Aspaeris sponsors the NoACLHurt blog which features stories on recently injured or recovering female athletes. Athletes can also engage Aspaeris via Facebook and Twitter.
To learn more about APS™, visit AspaerisPivotShorts.com.
For more information on Ragnar Relay, visit RagnarRelay.com
# # #