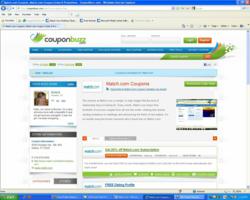 One of the reasons we chose to create a dedicated web page for Match.com coupons is because of their international capacity and appeal.
Houston, TX (PRWEB) April 25, 2012
CouponBuzz.com is finding that Match.com coupon codes and special offers attract an impressive international following of satisfied customers. The attention and web traffic they garnered by featuring Match.com coupons, like the recently highlighted free online profile, has been instructive. With web sites in 15 different languages and servicing 24 countries and territories worldwide, Match.com has unrivaled international scale within the online dating community.
"One of the reasons we chose to create a dedicated web page for Match.com coupons is because of their international capacity and appeal," explained Justin Bowen, a representative for CouponBuzz.com. "CouponBuzz.com also targets a broad international audience, so we strive to partner with merchants who have something to offer that has an appeal capable of crossing barriers of language, culture and geography."
A subsidiary of IAC/InteractiveCorp, Match.com is headquartered in Dallas, TX with offices in West Hollywood, Tokyo, Rio De Janeiro and Beijing. As of 2009, Match.com had 1.3 million paying subscribers worldwide, boasting more than 42 million users globally since its launch in 1995. The incredible success of and rapid rise of Match.com earned them a Guinness World Record in November of 2004 as the largest online dating site in the world.
Match.com is the online dating service engine that powers the online dating for Yahoo! Personals in the US and Australia. In addition, MSN dating personals across the U.S., Asia, Australia and Latin America are also serviced by Match.com. They have successfully surmounted some of the most elemental obstacles that online dating websites face when expanding internationally. Because every culture is unique in their dating and courtship rituals, an internet dating service must also be uniquely tailored to concept of love within a given culture.
Match.com offers international users the benefit of more than a decade of experience with providing online match-making services. In addition, they give users access to an impressive multi-cultural, multi-national database of individuals ready to be 'matched' that spans the globe. When technology and experience combine with a nuanced understanding of culturally appropriate approaches to dating, a remarkable online dating service emerges. And with the Match.com coupons currently being featured by CouponBuzz.com, Match.com also offers some of the best bang for the buck (or Euro, Yuan or Peso, for that matter). See all of the current offers at the new CouponBuzz.com web page dedicated to Match.com special offers here http://couponbuzz.com/match.com-coupons.html.