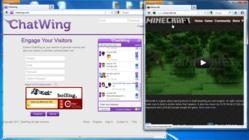 Los Angeles, CA (PRWEB) April 26, 2012
When Minecraft hit the market, people all over the world tried their best to purchase copies. This made Minecraft an instant hit in just months after its release. This clearly proves that people love to create their own environments and worlds—a major feature of Minecraft. The developers of Chatwing have been steadily providing a chance for new Minecraft players to gather beginners' tips. This has been possible by launching an upgraded and free chat box for everyone to discover.
Chatwing may appear a simple chat widget for others, especially to those who are not familiar with online applications. The developers of Chatwing have intended to make Chatwing simple. Their goal is to create a standard chatting platform that can be understood in no time. The results went overboard. According to a study, Chatwing is now more than just the average chat application. In its early release, it has already transformed blogs into 'chat lounges' benefiting everyone. Bloggers remarked that Chatwing's compatibility rate is way beyond 100%.
Statistics have stated that Minecraft players, at first, had a hard time looking for tips in the Internet. Chatwing has created an avenue of communication for avid Minecraft fans. This is where Minecraft bloggers grabbed the opportunity. Upon installing Chatwing, these bloggers can now exchange information with their visitors. One of the most popular features of Chatwing is the Facebook integration. Through this, guests and visitors can now log in using their Facebook accounts.
Since Chatwing is a widget, it can be installed to blogs and websites that allow HTML coding. This has been considered a wise move because Chatwing can improve a blog's rate of visibility. "That is the purpose of Chatwing: provide a new source of communication between the blogger and his or her visitors. A speedy communication, in fact. This is why Minecraft players can now easily exchange tips and hints with each other. The lesser the time searching for tips, the more blocks these Minecraft players can build," commented by one of Chatwing's developers.
New users who want to utilize Chatwing's free chat box can visit the homepage and learn more. Adding to that, users can also visit Chatwing's Facebook page for updated content.
About Chatwing
Chatwing.com has developed live chat software for websites and blogs. The Chatwing.com website offers users the ability to signup and create a customizable live chat box feature in 1 minute or less. Users have the ability to customize the size, color, and fonts of the chat product. The ability to chat via social media accounts such as Facebook and Twitter enable Chatwing to offer a personal and unique real-time experience to all sites. Chatwing is 100% free web software.