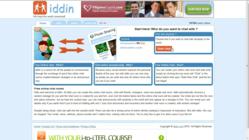 Houston, TX (PRWEB) April 27, 2012
Random chatting has been one of the great niches of communication today. The developers of Iddin have seen the popularity of this niche, prompting them to launch a chat app that can level the playing field for random chatters. Iddin specializes in random IM chat and its high rate of connectivity has generated thousands of sign-ups in its early release.
Many people prefer Iddin's latest release because it is faster and allows high level of global connection. A user can connect to the world in just few clicks. Adding to that, he can select where the stranger will come from. There are lots of countries and locations to choose from in Iddin.
Privacy protection is also the specialty of Iddin. Instead of inputting email addresses and other information, the user will appear as a 'stranger.' Even the gender will never appear. According to a study, people love to chat anonymously because they can create personalities separate from themselves. This makes the chat experience unique and thrilling. Adding to that, more people feel secured because there is no leakage of information. "Hackers can never get to anyone. Think of Iddin as a giant private chatroom, or an online speed dating lounge," Commented by one of Iddin's avid users.
Finding dates in Iddin can be challenging too. Without extra information to deal with, everyone must use the proper ways of communication. This level of web chat thrill has appealed to college students, employees letting off steam, and some bloggers who are looking for new ideas and connections.
Despite Iddin's privacy protection, the user can still share personal information. He can also add pictures. It has been proven that users with pictures will likely have a chance to maintain a conversation longer. In case there are obscene strangers, the user can choose to block them. Once blocked, their paths will never cross again in the Iddin chatroom.
About Iddin
Iddin is a free web chat application that specializes in generating random chat with strangers. Users can choose the locations of the strangers, or they can have the engine to search the whole world. Random chat is encouraged to protect the identity of people and also to empower spontaneous connection that is fun and interesting. Users can visit Iddin's website to discover its features.