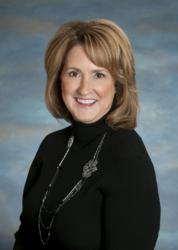 I could never have imagined the connections that I made at M2W® or the series of events that would unfold leading to the formation of Bcureful. And it all started at M2W®.
Chicago, IL (PRWEB) April 25, 2012
Julie Scroggins, VP and CFO of Waukegan Tire & Supply, Park City, IL, was presented the M2W® Full Circle Award at the 8th Annual M2W® – The Marketing To Women Conference in the Chicago Cultural Center on Wednesday, April 25. The award is given annually to the person or brand who has best demonstrated how their previous attendance at M2W® has impacted their marketing to women strategies and campaigns.
"Julie was chosen because of the influence M2W® had on her decision to launch Bcureful. Bcureful is a foundation dedicated to finding a cure and building awareness for a genetic disorder called Tuberous Sclerosis Complex, or TCS," according to Nan McCann, M2W® producer.
"M2W® was the catalyst that inspired Bcureful" Scroggins stated. "Something happened to me at M2W®. I came home feeling energized and the ideas were coming faster than I could keep up with. I came home feeling like I could single-handedly improve marketing to women for the entire automotive industry."
"But I decided that before changing the automotive industry, I could put all of this new information and energy into finding a cure for Tuberous Sclerosis," Scroggins explained. "I could never have imagined the connections that I made at M2W® or the series of events that would unfold leading to the formation of Bcureful. And it all started at M2W®."
"Before M2W®, I was just sitting at my desk minding my business, doing my job and then the phone rang inviting me to M2W®," Scroggins said. "I would have never imagined that less than a year later I would have founded a non-profit. What a wild ride it's been. I really believe that we will find a cure for TSC."
"It's really exciting to watch people take what they learn at the conference and immediately apply it," McCann said. "Julie joins previous winners from ACDelco, Carolina Pad, Ghirardelli Chocolate, Motorola and Harley Davidson."
M2W® is annually attended by Fortune 1000 senior brand marketing executives and their agencies. Registration typically includes companies as diverse as Bayer, Aetna, ESPN, Kraft Foods, GM, J&J, Kellogg, Diageo, Walgreens, Wells Fargo, NBA, WebMD, Burton, L'Oreal, ConAgra and Whirlpool. "They attend," McCann said, "because they recognize the importance of reaching women – who control 85% of all consumer purchasing in virtually every product category."
M2W® is presented by Global Sponsor: Chicago Sister Cities International; Associate Sponsors: Fleishman-Hillard, Hearst Magazines, Carmichael Lynch, Carmichael Lynch Spong, DeVries, Campbell Ewald, PMP, General Growth Properties, Tropicana, GolinHarris, The Hunter-Miller Group, GfK Roper Consulting NA, WebMD, Yahoo!; Workshop Sponsors: YWomen, Anthem!, Redbean Society, SheSpeaks, CraveBox, Social Media Link, The Gate Worldwide, Royal Kingdom PR Agency; Showcase Sponsors: Carolina Pad, BlogHer, Sonos, and Trek Women; Video Content Resource: Snippies; Media Sponsor: Today's Chicago Woman; Special Event Sponsor: The God Box Project. This Year, M2W® Proudly Supports Habitat for Humanity International.
For complete conference information visit: http://www.m2w.biz or call 860.724.2649 x13. M2W® is produced by PME® Enterprises LLC, 912 Silas Deane Highway, Suite 101, Wethersfield, CT 06109.