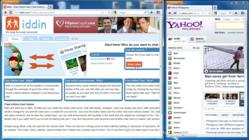 Houston, TX (PRWEB) April 28, 2012
Despite being new in the industry, Iddin is gradually making a name for itself because of its superior web chat platform. All over the world, people are beginning to see its real worth and potential. Everyday, it has been noted that Iddin generates over one hundred thousand chatters without affecting its overall connection speed.
Iddin's developers thought of an improved random chatting experience by creating a platform that can handle thousands of people everyday. Despite the numbers of users, this platform will still have a very stable connection. One of the best things people like about Iddin is the privacy protection feature. Iddin does not prompt everyone to give out email addresses and other contact information, so there is no information leakage.
According to statistics, information leakage is one of the most crucial issues of several chat applications today. In a way, talented hackers can get to the applications and retrieve any personal information. Iddin's IM chat platform is highly secured and can block most hackers everywhere. Despite this privacy filter, Iddin users can still share information about themselves through chatting. Adding to that, Iddin users can still upload any kinds of pictures. However, mentioning the wrong words can ward off strangers at all. It has also been proven that writers chat online using Iddin because they can have random ideas every now and then. They can also exchange insights with different Iddin users.
Using Iddin is also very easy. First, the user must select from three chatting options: specific country, anybody from USA, and anybody from the world. The last option is the largest—once selected, the Iddin application will search for the first stranger that it can find. Connecting with a stranger usually takes place in just few seconds.
About Iddin
Iddin is a free web application that specializes in generating random chat with strangers. Users can choose the locations of the strangers, or they can have the engine to search the whole world. Random chat is encouraged to protect the identity of people and also to empower spontaneous connection that is fun and interesting. Users can visit http://www.iddin.com to discover its features.