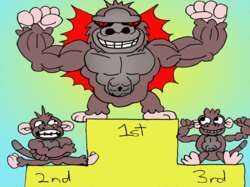 The speed at which Vivid Vocab's students are retaining these words is almost freakish - it's our main impetus for adding new words to the software as quickly as possible.
New York, NY (PRWEB) April 25, 2012
For years, students trying to learn SAT vocabulary words have been stuck with the same tools: flashcards, SAT vocab lists, and their own discipline. Despite countless new developments in brain science and technology, students haven't been given a new way of memorizing the thousands of SAT words that they're expected to learn before they take the College Board's infamous exam. However, a new SAT vocabulary software developed by nascent online company Test Prep Authority, has quickly been gaining attention for the speed at which its users are memorizing the hundreds of SAT words that the software features.
"When students try to memorize SAT words using traditional flashcards, they retain almost nothing" says Vivid Vocab's creator and head developer, Anthony-James Green. "The brain is notoriously terrible at remembering plain text. When students use traditional flashcards, they're not giving themselves any sort of associations to latch onto. They're staring at a word, a definition, a word, a definition, ad infinitum, and it all goes in one ear and out the other. We launched Vivid Vocab to change the way that things were done."
Vivid Vocab takes a unique approach to teaching students SAT vocab: rather than encouraging them to remember words's definitions, the software instead encourages students to memorize shocking, multi-sensory, and intentionally bizarre stories to create vivid associations of each word's definition within their brains.
"We're not surprised that Vivid Vocab is working," says Green of the company's first round of recorded student results. "We're just surprised by how well it's working. Students exposed to Vivid Vocab's mnemonics are showing a 92% retention rate after one exposure to a word with no review. And that's after a two week period."
To put things in perspective, the human brain generally remembers about 15-30% of the information which it receives in text format. Vivid Vocab's mnemonics, therefore, are outperforming traditional flashcards by roughly 3-6X.
Vivid Vocab set up a very simple experiment to gauge the effectiveness of its software. It took two groups of online users, one of which studied regular "word on the front, definition on the back" flashcards, while the other studied Vivid Vocab's mnemonic software. Each group was given 40 words to study, for a total of 40 minutes (students were given the same words in each scenario). After the 40 minutes was up, the users stopped studying and went about their days as per usual. Two weeks later, with no review, the users took a 40-question quiz to test their memories and see how many words they had retained.
"The users who studied with regular flashcards remembered 14 of the words that we provided. Users who studied with Vivid Vocab remembered 37 on average. These results are completely insane," says Green of the tests' results. "I encourage people who are interested in the functionality of the software to visit our site and check it out - we offer a one-week free trial, so it's very easy for those interested to see how the software works and what it can do for their SAT vocabularies!
To understand how Vivid Vocab attains such high retention rates, it helps to understand how the software actually works. An illustrative example of the software's method is the word "parsimonious," which means "extremely cheap." Students are shown a picture of a man in a tuxedo with a tophat and Rolex on, sleeping on the ground outside of a Mercedes. While the man is clearly very wealthy, he's sleeping outside in a cardboard box. The man is "partly homeless," students are told, because "he's too parsimonious to buy a house." In other words, the man is partly homeless (rich, but yet still sleeping outside) because he's so cheap that he refuses to pay for a mortgage.
"Our mnemonics sound like the words they represent, and they create images in our users' brains that perfectly illustrate the key concepts represented by each word. The associations we're building seem to be lasting, because they involve stories and complex concepts that students can latch onto." Green, who is widely recognized by some as the best SAT tutor in New York City, has one concern about the effectiveness of the software: "We're offering Vivid Vocab on a subscription basis. If people memorize all the words within our software too quickly, we're not going to keep them on long enough to make any money! That's actually a huge concern of ours right now, and we have developers working around the clock to add even more words into the software as quickly as possible."
Users interested in Vivid Vocab can visit the software's website using the following link:
Vivid Vocab was developed by Test Prep Authority, a free online resource center for SAT practice and ACT problems. Users can sign up for a free week trial of the software, and are then charged $19.95/month for full access to Vivid Vocab's learning module.