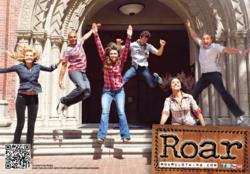 We make our clothing for people who think differently and who are not willing to settle for the ordinary.
Los Angeles, CA (PRWEB) April 25, 2012
Mega-superstar artists such as Blake Shelton, Kenny Chesney and Toby Keith make ROAR shirts their brand of choice on their network television appearances and in concert. They and millions of Americans have discovered in ROAR a fresh and innovative edge that captures the resilient spirit of the times.
Located in the heart of the Los Angeles fashion district, ROAR was founded by Deepak Vasandani, the son of Indian immigrants. He realized a passion for design at the age of 7 when he had a tailor make him a suit with his specifications.
Deepak began his career selling t-shirts in flea markets as a teen-ager where he visualized a grander future. His breakthrough happened when he was not having a particularly good day, and on a break, he walked past another vendor selling small sculptures of animals. His gaze fixed on one of the pieces, a black panther baring its fangs in a posture of invincibility. The roaring cat spoke so loudly to him that he purchased the statute. Its symbolism grew into action to move forward with his life with a bolder spirit and the courage to challenge the status quo and not compromise his convictions. ROAR was started while he was a student at FIDM in Los Angeles. Today, ROAR is available at Buckle, Macy's, Amazon and specialty boutiques throughout America.
"Enough excuses. Get it done." These words are inscribed on each and every piece of ROAR clothing. They embody the forward-thinking, go-against-the-grain spirit that has made ROAR one of the best untold success stories in contemporary American fashion. This essence is captured in every detail of ROAR from the design table to the moment that last button is fastened before walking out into the world.
The ROAR formula is based on the belief that today's young adults want a more distinctive and bolder edge in their everyday affordable fashion than the predominating uniformity found elsewhere. The ROAR Manifesto on the tag attached to each shirt reads: "To deliver newness; to ensure that quality and comfort go hand in hand; to deliver real value."
To get it done, ROAR basically turned upside down the model of how clothes are designed, manufactured and sold. ROAR offers twelve collections every year, delivering dozens of new styles each month. To do so, it cut in half the production time from design to delivery, notably sixty days in total for a woven garment or thirty days for a t-shirt. ROAR works with its vendors to find innovative ways to continuously upgrade and streamline the manufacturing process and shorten the production cycle. Some major chains, including Buckle with close to five hundred stores nationwide, recognized how "new arrivals" translated into their guests coming back with greater frequency. ROAR's fresh approach soon hit a nerve, and success made other converts.
Each ROAR shirt for both men and women is a statement of discovery of nuances and details that meld together to make a statement that stands apart from the ordinary. On the fabric alone, the choice of using a more expensive cotton with a higher thread count or blending with five percent Lycra to give extra stretch translates into a refined sense of comfort. Washes, distressing and woven imbedded patterns give added tonality. The distinctive ROAR look draws from a rich palate of customized graphic possibilities. The crosses, fleur-de-lis, winged flourishes, printed words and tribal symbols that adorn Roar clothes are custom hand drawn by ROAR design artists.
"Discovering what works and what's right has been a growth process, but it is a far more rewarding than the pursuit of simply making money and expanding sales," Deepak concludes. "The most important factors in my company's success have come as a consequence of learning from some of my biggest mistakes. Our society is bombarded with so many negative messages. 'Don't take a risk.' 'Don't go against the grain.' 'Don't roar.' We need to get over that mentality and move forward. We make our clothing for people who think differently and who are not willing to settle for the ordinary."
###
Website: http://roarusa.com
Celebrity clients: http://www.roarusa.com/media.php
YouTube sampling: http://www.youtube.com/watch?v=XRMDNzfCz00