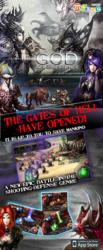 God of Defense can be downloaded in the iTunes App Store for free.
Atlanta, GA (PRWEB) April 25, 2012
MGame Mobile's new entry into the iTunes App Store is a unique defense-oriented game that hopes to entice fans with its creative design and non-stop action.
In G.O.D.: God of Defence, players will protect their fortress from legions of undead skeleton warriors. While traditional defense games typically employ a home army as the defending force, players of G.O.D. will be literally "playing god" against the opposing force. Rather than focusing their defense strategy on combat units, they will build up the skills and strengths of one ultimately powerful character.
The game's aesthetics and control system are designed specifically to enhance this aspect of G.O.D.: God of Defence. As waves of the undead march toward the player's fortress, the player will use the tilt function to survey the battlefield and conduct horizontal maneuvers. To give the player-character a more deified feel, the player views the field of combat from a first-person perspective, with the hand of the "god of defense" functioning as the player's weapon.
Aside from the action-packed combat sequences each stage presents, players of G.O.D. will have the opportunity to enhance god's abilities by purchasing items, new skills, and upgrades using the in-game currency acquired through gameplay. In-app purchases will allow gamers to fast-forward the process of building their own epic warrior defense-god.
Networked gameplay, RPG-style skill development, and tower-defense inspired combat combine to give iOS gamers a completely original battlefield gaming experience. Not only can game lovers play G.O.D. on the battlefield, but they can do it for free: G.O.D.: God of Defence can be downloaded in the iTunes App Store for free.
Features:

Develop a personal God of Defence by obtaining and upgrading three special elemental skills: fire, plasma, and ice
Master special attacks to devastate the enemy
Prove the player's deadly skills against 26 types of enemy, each with their own special attributes
Become the ultimate God of Defence with 12 different achievements
Track success by comparing wins to other players around the world
iTunes App Store: http://itunes.apple.com/us/app/g.o.d-god-of-defence/id507390034?mt=8
About the Developer:
Mgame Corp. is a Korea-based company engaged in the development and provision of online game products through portal site, http://www.mgame.com. MGame mainly provides massively multiplayer online role-playing games (MMORPGs) and others. Mgame's US branch provides global online game service provider, Mgame, services online games to the user over 13 countries though 16 other partners.