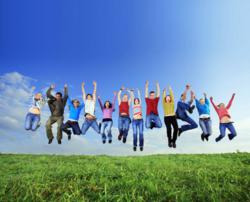 Bulgaria is an attractive outsourcing location for much of Europe and will see impressive growth
London, UK (PRWEB UK) 30 April 2012
Contact centre employee motivation experts, Motiv8 Solutions, have this week deployed Motiv8 V2Pro in one of Bulgaria's fastest growing outsourcing companies, Call Flow. The Sophia based company has 50 seats and is currently conducting various campaign activity including work for Bulgaria's leading Telecoms provider, VIVACOM.
With deployments now in Ireland, Poland & Bulgaria and others to follow soon in Germany, South Africa and USA, Motiv8 is rapidly becoming a global business.
Motiv8 V2Pro has been deployed to all Call Flow agents and initially it is aimed at increasing sales performance of agents. This is achieved through instant recognition via the system and non-monetary reward in the form of short bursts of time on the Motiv8 casual game of the week.
This "gamification" concept is increasingly popular in the contact centre industry and is pioneered by Motiv8. With all of their work grounded in the science of human behaviour, these types of applications are at the cutting edge of contact centre performance improvement, but will in the future be regarded as standard operating procedure. Prof. Nick Lee of Aston University is currently engaged on a number of research projects with Motiv8, looking into the impact of effective employee motivation in contact centres.
Martin Ivanov, CEO of Call Flow said, "We first saw Motiv8 demonstrated at the Call Centre Expo in London in 2011 and we said at the time, this product has definite applications in the Bulgarian market."
"In just 1 day it is clear to me that our agents, who are mostly female, love the game play mechanic and are going to have a lot of fun with the WeeMe Avatars that Motiv8 uses. It will be interesting to see over the coming months what impact this application has on our overall performance. But however I look at it, this has a positive impact on our employees and this must be good for business " said Ivanov.
Simon Peacock, Operations Director of Motiv8 commented, "In addition to the reward and recognition activity, we have implemented the online competency module which takes advantage of slack time in a shift to quiz agents on product knowledge. The quiz process is an efficient. low cost and gentle way to constantly asses and improve agent competence and knowledge. It is particular relevant in situations where agents are selling in a Regulated market and employers need to demonstrate ever increasing levels of compliance"
-ENDS-
Notes to Editors:
Motiv8 Solutions
Motiv8 Solutions are experts in the field of employee motivation. Our unique, cloud-based Motiv8 V2 Pro Solution, aimed at call centre environments worldwide, improves the motivation, competency and inclusion of employees, resulting in greater engagement, capability and commitment. The outcome of this is more sales, lower costs and a leap in employee and customer satisfaction.
Motiv8 Solutions' low-cost application enables corporations to easily, instantly and consistently recognise and reward great performance from their contact centre employees. In addition Motiv8 provides a unique, nonthreatening and on–the-job method of assessing employee competency and knowledge, and subsequently addressing any knowledge gaps, in a way that is hugely popular with employees and employers.
Motiv8 V2Pro is readily deployed, intuitive, low cost and completely unique. For some examples of how Motiv8 has been put to use for considerable economic benefit visit http://www.motiv8solutions.com/casestudies.html