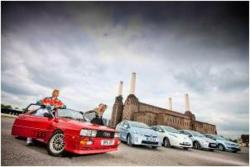 London (PRWEB UK) 25 April 2012
Models from Vauxhall, Peugeot, Mia, Honda, Nissan, Citroën and Chevrolet will be at EcoVelocity from Saturday 3 May 2012 to 13 May 2012.
Also exhibiting at the show will be the event sponsors EDF energy, The Charging Point, Source London, Rolec, Zero Carbon World, Schneider Electric, Zip Car the car sharing company and Michelin. Each exhibitor will be able to demonstrate to visitors how they can help them make changes and that will make their lives more sustainable.
Giles Brown, organiser of EcoVelocity commented: "Visitors to EcoVelocity this year will be able to test drive numerous vehicles on the 3.5 mile test route in and around ExCeL. Test drives when taken in isolation can be time consuming, our unique offering and facility will allow visitors to take almost back to back test drives, giving motorists the opportunity to make direct comparisons and work out which vehicle best fits their requirements."
EcoVelocity will offer show visitors ample opportunity to test drive the latest low carbon vehicles including hybrids, electric vehicles and range extenders on a 3.5 mile test drive road and a centre stage that will provide informative and educational debates and presentations. Each exhibitor will be manned by knowledgeable staff that will be able to answer all manner of questions from visitors interested in low carbon vehicles in a non sales environment.
Giles Brown commented: "Visitors wanting to turn a key or push a start button in a test vehicle must provide both parts of their driving licence to the car makers. It's a legal requirement we don't want anyone disappointed they can't drive if they forget their licence."
If you cannot get to the show, look at the Business Car Manager guides we have prepared for you, our car tax calculator and company car tax calculator are packed with useful information to help you decide on your next car.