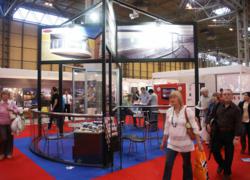 We always find that the Grand designs exhibition is a wonderful place that allows us to inspire the visitors when considering their own Grand Design
Surrey, UK (PRWEB UK) 26 April 2012
Returning for the sixth year in a row, Balcony Systems announces the upcoming event and is excited with so many customers that have already confirmed their visit.
Balcony's stand is B124 in the Grand Build section at Excel. The show that takes place from May 5th through to 13th 2012 will once again demonstrate how its innovative and simple-to-install products open up limitless design possibilities for all types of new build and refurbishment projects.
Glass Balconies, Juliet Balconies & Railings:
Balcony's unique system relies on the aluminium handrail to provide all the required strength, so in many cases; straight or curved balustrades require no vertical supports. This allows unobstructed views to the outside and more light inside.
Curved patio and sliding doors:
Distinctive curved patio doors combine practicality with panoramic views, transforming buildings with an added 'wow' factor. They feature two, three, four or six panels in various sliding or fixed combinations.
Self-cleaning Glass:
An optional BalcoNano® self-cleaning glass coating is also available across the entire product range to greatly reduce maintenance. Balcony has also introduced the BalcoNano® heavy duty cleaner, the easy-to-apply, seriously-strong answer to restoring heavily contaminated glass back to its natural shiny appearance.
Effi Wolff, Managing Director of Balcony Systems, explains: "Our unique proprietary systems have been developed from years of on-site experience to solve many installation issues. Curved and straight glass balustrading panels can meet the most demanding of complex design and aesthetic requirements - with spectacular results.
"We always find that the Grand designs exhibition is a wonderful place that allows us to inspire the visitors when considering their own Grand Design."
For more details, contact Balcony http://www.balconette.co.uk on 01342 410411
All trade/reader enquiries to: Balcony Systems Solutions Ltd, Unit 6 Systems House, Eastbourne Road, Blindley Heath, Lingfield, Surrey, RH7 6JP
Tel: 01342 410411, Fax: 01342 410412. Website: http://www.balconette.co.uk
All media enquiries to: Kathy Wilkinson, Wilkinson PR Ltd, on Tel/Fax: 01905 621575 or 07740 368325.
Issued by: Kathy Wilkinson, Wilkinson PR Ltd, 5 Holt Castle Barns, Holt Heath, Worcester, WR6 6NJ