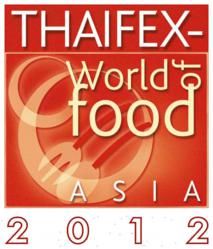 THAIFEX – World of food ASIA 2012 aims to underline Thailand's internationally-renowned food-producing capabilities and service excellence, as well as, to help steer the country to become one of the most prominent food trading hubs in Asia Pacific
(PRWEB) April 26, 2012
The Department of International Trade Promotion (DITP) projects a robust, growing demand in quality food from world markets, and is confident that the upcoming THAIFEX – World of food ASIA 2012 – one of Asia's largest food expositions – will play a key role in demonstrating Thailand's outstanding food-producing capabilities to the world. The grand food extravaganza promises to showcase a cornucopia of food innovations, technologies and food related services from Thailand and beyond, and to aid increased export opportunities for over 1,000 food business operators.
Mrs. Nuntawan Sakuntanaga, DITP Director-General, stated that, "This year, Thailand expects to see a growth of 15% in exports, and, of course, food products will continue to be one of our major export items. The DITP, in this regard, has formulated measures to increase the competitiveness of Thai food business operators, as well as, to open up new distribution channels in emerging high-potential markets such as ASEAN, China, India, Russia and Africa. This will help offset any possible decline in orders from some of our key markets which are facing economic difficulties."
"This year, the DITP, together with, the Thai Chamber of Commerce (TCC) and the German world-class event organizer Koelnmesse, is once again organizing Thailand's grandest food exposition of the year, THAIFEX – World of food Asia 2012. The exposition is scheduled to take place from May 23rd-27th, 2012, at Challenger 1-3, IMPACT Muang Thong Thani. The event will serve as a platform for Thailand and Thai food manufacturers to promote their quality food-related products and technologies to potential consumers and businesspeople from around the world. THAIFEX – World of food ASIA 2012 aims to underline Thailand's internationally-renowned food-producing capabilities and service excellence, as well as, to help steer the country to become one of the most prominent food trading hubs in Asia Pacific.",
added Mrs. Nuntawan.
"The annual THAIFEX event has always enjoyed overwhelming success, with an increasing number of international visitors each year. It has generated a substantial annual income of approximately 3,000 Million Baht for the country. This year's event promises to be the grandest event of its kind in Asia with over 1,000 Thai and international exhibitors and over 2,700 booths. The grand showcase is divided into various interesting categories covering Food & Beverage, Kitchen Equipment, Food-related Services, Food-producing Machinery, Hotel Catering Equipment, as well as, consultation services for hotel businesses, retail technologies, and overseas franchising. The event will provide an excellent opportunity for food business operators to forge business alliances and help strengthen Thailand's competitiveness in the world marketplace.", said Mrs. Nuntawan.
In addition to comprehensively showcasing food innovations and related services, THAIFEX – World of food ASIA 2012 will also feature a series of interesting activities which will be useful for industry professionals. Such activities include the following:

Organic Pavilion Exhibition
Thailand Frozen Food and Seafood Exhibition
Food Safety from Thailand Exhibition
Thailand Chef's Competition
Organized by the Department of International Trade Promotion (DITP),
DITP Call Center 1169
http://www.worldoffoodasia.com http://www.thaitradefair.com http://www.thaitrade.com