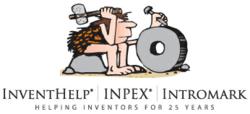 Pittsburgh, PA (PRWEB) April 27, 2012
InventHelp®, America's largest invention submission company, announces that one of its clients, an inventor from Pennsylvania, has designed a device to hold a garbage can in place. This invention is patented.
The "Last Can Standing" would provide a convenient way to secure an empty garbage can, and could prevent an individual from having to purchase a new garbage can in order to replace lost ones. Designed to eliminate the traffic hazard posed by a garbage can rolling into the street, the invention could also help to reduce the physical strain or injury associated with lifting and emptying a full garbage can.
The holder would be made of a heavy duty plastic and would feature a cylindrical design with a flared base. Inside the holder is a cavity with an open top that would accommodate a standard-sized garbage can, and the side of the holder could be filled with sand or water to help stabilize the device. An angled handle would be positioned at the rear of the base, with wheels positioned at the bottom. To use, an individual places a garbage can into the holder, and when garbage needs to be collected, the user would roll the Last Can Standing to the curbside. Once the can is emptied, the garbage collector would return the can to the holder so that it can be found and retrieved easily. Produced in multiple colors to match existing garbage cans, the invention could be produced in alternative decorative versions.
InventHelp® is attempting to submit the invention to companies for review. If substantial interest is expressed, the company will attempt to negotiate for a sale or royalties for the inventor. For more information, telephone Dept. 07-HAK-212 at (800) 851-6030.
Manufacturers interested in reviewing additional inventions and new product ideas can contact InventHelp's marketing partner Intromark by filling out an online request to review new product ideas here.
# # #