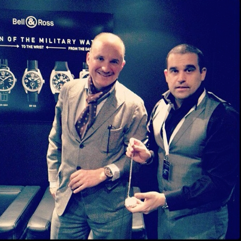 We go from the pocket to the wrist, and from the dashboard to the wrist.
New York, NY (PRWEB) April 25, 2012
Haute Time, the ultimate resource for luxury timepiece aficionados, presents exclusive video content behind top-tier watch brands from all over the world. Haute Living Co-publisher and Haute Time curator Seth Semilof got to sit down with Bell & Ross CEO Carlos Rosillo to talk about the brand's haute new timepieces.
"Our history is about military watches," Rosillo began, introducing the brand's legendary aesthetic. "We go from the pocket to the wrist, and from the dashboard to the wrist. Given this framework, we have developed different aspects of this collection." With that he demonstrated the striking Flight Instruments collection, which features three pieces inspired by the cockpit of an airplane.
Moving on, Rosillo delved into the materials that make Bell & Ross timepieces the reliable, high-end pieces they are reputed to be. This is especially relevant in the case of pocket watches, which used to be in silver. "The problem with silver is that it will tarnish," Rosillo explained. "We have developed new material…the advantage is that it's the purist silver."
Gaining an inside look at the industry's star timepieces directly from the company CEOs demonstrates the respect and passion Haute Time reserves for luxury watches and their corresponding brands. Access the interview with Rosillo and get an exclusive look at the brand's WWII-inspired pieces here and explore the many wonders of Basel World 2012 at http://www.HauteTime.com.
http://www.hautetime.com/feature/haute-time-presents-carlos-rosillo-ceo-of-bell-ross-at-basel-world/
About Haute Time
Haute Time curators realize that luxury watches are more than style statements; they're representative of an individual's personality, aesthetic and attitude. The site features the most recent news in all things time, including new releases from the top brands, interviews with those helming these upscale watchmakers and a watch locator, which provides site visitors with authorized retailers nearby to them. Hautetime.com is frequently revised to reflect the latest in news, collections and brands, including Ulysse Nardin, Bell & Ross, Omega and beyond. Our experts regularly review the latest pieces and happenings in the market, including updates from Patek Philippe and Audemars Piguet.
For more information, please visit: http://www.hautetime.com