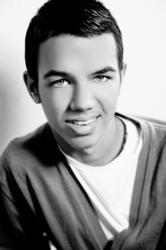 Latif definitely has the right mental attitude to succeed
London, UK, 26 April 2012 (PRWEB UK) 26 April 2012
it's all about the right attitude says http://www.lamodelondon.com, as they launch another modelling for teenager's portfolio.
Helen Smith, director at La Mode London talks proudly of her company's latest modelling portfolio.
'Latif definitely has the right mental attitude to succeed within the male modelling industry. It's all about self-confidence, and he certainly has bags of that, as well as the looks that should take him far.'
La Mode London specialise in modelling advice and their commercial photography studio offers top-class shoots for aspiring models of any age. The company, based in the heart of modelling London, have a great overview of what occurs within the high fashion industry. They pass on their knowledge and experience to any model just starting out and as they launch yet another superb portfolio for a model with charisma and confidence. The modelling advice company sing his praises.
'Although Latif has had minimal experience in this industry and has only undertaken 4 to 5 photo shoots so far in his career, he is a very fast learner. We could tell straight away that he has definitely done some studying of other model's attributes to enhance his own skills,' continues Helen. 'He is definitely determined and that is certainly a great attribute for a model to have if he's going be successful.'
Latif is 6' tall, has stunning green eyes to complement his brown hair. He says of himself, 'I want to be a model because this industry suits me, my personality, my attitude, my love for the camera and my drive for success.' He goes on to say,' I want to be the next face of the top designer brands such as Armani, Louis Vuitton, Prada, Gucci, etc, because that's when I'll feel I've succeeded. 'This model certainly has got ambition as he continued,' I want my face on billboards when driving down the motorway. That is why I want to be a model.'
With his movie star looks, he looks great in both black and white and colour according to La Mode and his modelling portfolio pictures prove the facts to be true.
'Have faith in me, I don't like to fail,' he urges potential teenage modelling agencies and future freelance photographers to put investment in his style.
It seems teen modelling is just one trick up his sleeve. Latif is also very interested in music and is helping an upcoming talent called SoVersa. He is also part of a street dance class and flexibility is certainly another asset which a budding model needs, as well as his clear determination and grit according to La Mode.
See the model advice company's latest new modelling portfolio at http://www.lamodelondon.com