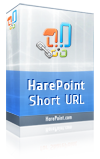 (PRWEB) April 26, 2012
MAPILab would like to announce a new software product: HarePoint Short URL for SharePoint 2010. The product is intended for creating short links to SharePoint web-pages and site elements.
Short URL convenience is quite evident: one may easily articulate them in personal conversations or by phone. They look good in printed materials, blogs or Twitter, company commercials; one may type them rather quickly either.
However, SharePoint technology requires its own syntax when creating URL addresses resulting in pretty long addresses, which are meaningless, as a rule. Moreover, such URL address may easily become invalid due to breakdown into separate lines (e.g. in e-mails).
A typical SharePoint website URL is:
ourcompany.com/_layouts/Partners/Requests/Request.aspx?ContextID=47&ContextViewID=1af1bcc4-bce0-412a-a4cb-e8f170d6e6ab
with HarePoint Short URL may be represented in a short and handy form:
ourcompany.com/newpartner
HarePoint Short URL is SharePoint 2010 allows users to create short links in the SharePoint environment for site pages, documents, views and list items.
Unlike external URL reduction services (like Tinyurl), HarePoint Short URL works in web environments and provides more features:

both automatic and manual link creation with URL address determined by users;
convenience for portal administrators: user-created links management, analytics for short link usage.
The product is provided with typical schemes of product deployment in any infrastructure, for the best convenience of HarePoint Shart URL options.
Full information about HarePoint Short URL and 30-day free trial are available at the product home page: HarePoint.com