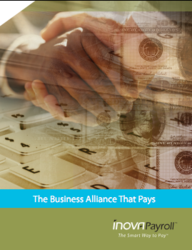 This 'Win-Win' business alliance provides many benefits including: alleviating the tedious burden of calculating payroll and taxes for the Partners' clients, as well as enhancing client loyalty and higher retention
Nashville, Tennessee (PRWEB) April 27, 2012
Inova Payroll has introduced its Business Alliance program aimed at creating partnerships with local CPAs, accounting professionals, community and regional banks, HR & benefits consultants and others. The program empowers partners with the ability to provide payroll and tax filing solutions to their clients backed by high-touch client service.
Companies today realize the importance of building long lasting relationships with local businesses. By joining the Business Alliance program, partners have the flexibility to choose options that meet their needs. They may elect to earn 10% recurring revenue share for all of their clients who sign up with Inova Payroll or choose to leverage Inova Payroll's technology and expertise as their back-office payroll service provider. For those wishing to exit the payroll outsourcing market, they may elect to sell their book of business to Inova Payroll who is committed to delivering superior value to its clients
"This 'Win-Win' business alliance provides many benefits including: alleviating the tedious burden of calculating payroll and taxes for the Partners' clients, as well as enhancing client loyalty and higher retention," said Melanie Crow, VP of Sales, Inova Payroll. "Outsourcing payroll is a smart choice for many small to medium size businesses, and we are pleased to work with our local business Partners to provide this valuable service for their clients."
There are absolutely no costs to join the program. Interested parties may contact Inova Payroll to learn more and sign up. Alliance Partners can start sending referrals and earning revenue immediately.
Inova Payroll is dedicated to high-touch customer service for small to medium sized businesses. In addition to special pricing packages, Inova Payroll also offers a Three-Year-Price Guarantee and no long term contract to sign. Additionally, there are no set up and no conversion fees for new customers.
About Inova Payroll: Inova Payroll offers a complete line of smart payroll and HR solutions for companies of all sizes. Combining innovative, state-of-the-art technology with our earnest commitment to high-touch customer care, Inova Payroll sets a new standard in customer satisfaction. Our impressive suite of services encompass one-database payroll and HR solutions, nationwide tax filing, integrated time management systems and a growing suite of InovaPlus™ ancillary products. For more information, call 615-421-0600 or visit http://www.inovapayroll.com.