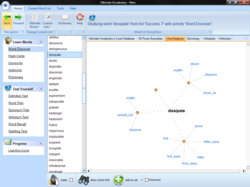 New York City, NY (PRWEB) April 26, 2012
While technology makes communication easy and allows people to talk without opening their mouths, the team behind one of the country's leading self-improvement software packages is urging the complete opposite.
Ultimate Vocabulary™ is quickly becoming an educational-standard vocabulary improvement software. The team behind it is calling on Americans to remain eloquent in an effort to preserve standards.
"There is no evidence that standards are slipping, we just want people to mindful that technology could threaten the spoken and particularly the written word" says Marc Slater, Managing Director of eReflect – the creators of the Ultimate Vocabulary™ software.
"We know for certain that technology can be a positive factor when it comes to learning vocabulary, and we are keen for people to back this up with the proper use of verbal and written language" he adds.
Indeed it would already appear that the team at Ultimate Vocabulary™ is not the first to make this call to action. Many U.S schools have developed their own similar schemes, all aiming to ensure that standards of vocabulary remain as high as they have been for the past three decades.
The call from Ultimate Vocabulary™ comes at a time when their sales are producing record numbers.
"Even though we are making this call we are well aware that Americans remain focused on improving their vocabulary. Our software sales have sky-rocketed since the start of this year and we put it down to the continued perseverance of people in the United States. It's great to see," Slater explains.
The company reported a record first quarter, with the first three months of 2012 beating their sales for any other period.
Originating from Australia, the Ultimate Vocabulary™ software platform has seen global growth in a relatively short space of time.
The company now places their focus on the United States, a market that Slater believes is ideally suited to electronic learning:
"The American people have adapted very well to the technology boom and are fully utilizing the learning opportunities they bring. It's easy to see why they are such an influential nation!" he concludes.
For more information, please visit: http://www.ultimatevocabulary.com
About Ultimate Vocabulary™
Ultimate Vocabulary provides a proven and powerful platform, built to improve anyone's vocabulary.
The interactive self-improvement system provides more learning tools than any other program on the market, as well as more information on words.
The Ultimate Vocabulary software provides each and every user with a personal computer tutor. Providing a step-by-step guide to learning a powerful vocabulary, Ultimate Vocabulary is the learning tool everyone can benefit from.
Of course, the software is also backed by eReflect's iron-clad money back guarantee.