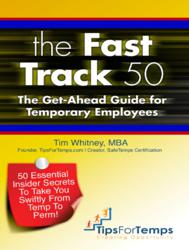 'Just one dollar can help someone find a job,' says author Tim Whitney.
Dallas, TX (PRWEB) April 26, 2012
As an experienced business executive in Dallas, TX, Tim Whitney has long been involved with the hiring of potential employees. But now he wants to make sure that anyone in America who wants a job has the tools needed to get one.
To that end, as of April 26, Whitney has teamed with Indiegogo, the internet's pioneering "crowdfunding solution," to seek $25,000 to help distribute his book, The Fast Track 50: The Get-Ahead Guide for Temporary Employees, to those who need it most.
"My goal is to give away as many Fast Track 50 books as I possibly can to people looking for full-time employment," says Whitney, whose book was published earlier this year. "Let's face it—these are the folks who need it, but don't necessarily have the money to buy a book."
The Fast Track 50, published as part of Whitney's Tips for Temps program, is a pocket guide filled with tips designed to substantially improve a temp's chances of achieving a full-time position. The book's fifty tips seek to inform would-be employees of any employer's basic team-building requirements—something Whitney, whose MBA is in team-building, knows a thing or two about.
The Indiegogo campaign includes several levels of donations, starting at $1 and climbing all the way to $10,000.
"Just one dollar can help someone find a job," says Whitney.
There are rewards for donations—a "virtual high five" at the lowest level, author-signed copies of The Fast Track 50 at $20, 250 donated books to the town of your choice at $1,000, and even a watch at $5,000—but the real reward, Whitney emphasizes, is providing the chance for employment to those who need it.
"I want to help temp employees and entry-level employees who just need a little edge," says Whitney. "There currently isn't anyone else trying to provide this type of information."
"During the recession, and even now, the unemployment rate has remained stubbornly, depressingly, high," says Bruce Bortz, whose independent Baltimore, MD-area publishing house, Bancroft Press, published The Fast Track 50. "This is an attempt to bring it down in a rather different fashion than is usually discussed in the media—by helping employers and employees alike convert temps into perm employees."
Whitney, whose other philanthropic efforts include A Play for Food, the organization that turns stage plays into food drives, founded Tips for Temps with the idea of "creating opportunity." By giving away The Fast Track 50, soon to be available in Spanish as well, he hopes to do exactly that.
"At the end of the day," says Whitney, "this is too good of a tool to sit on the shelf unused."