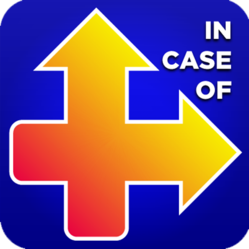 Herndon, VA (PRWEB) April 25, 2012
Irving Burton Associates (IBA), a leading software and mobile apps developer, today announced the debut of its In Case of Crisis smartphone app at the Society for Human Resource Management (SHRM) Talent Management Conference and Exposition, to be held April 30 - May 2, 2012 at the Gaylord National Hotel and Convention Center at National Harbor, Maryland. In Case of Crisis was officially released in March 2012 but this conference marks its first public appearance at a tradeshow event reaching over 700 human resource professionals from around the world.
In Case of Crisis is an all-in-one mobile solution that offers schools, companies and government organizations the ability to transform paper-based emergency plans into readily available mobile apps that employees, students, and stakeholders can use during an emergency event such as an earthquake, fire, or work-related injury, etc. The app offers many benefits and features to human resource professionals and organizations, including the following:

Provides an additional communication channel for emergency preparedness efforts.
Prevents and reduces liability for organizations.
Offers a web-based login panel that allows organizations to update or change crisis plan information from the incaseofcrisis.com website.
Ability to add emergency plans for multiple worksites or locations.
Offers web-based plans that can be customized for an emergency event (fire, earthquake, etc.).
Organizations can import emergency responses to explain what to do during an emergency.
Organizations can import emergency responders/contacts to show who to contact during an emergency.
Ready to use templates for organizations that need help crafting a crisis response.
To get the app, organizations can sign up at incaseofcrisis.com and upload their crisis plan and then direct users to download the app for free in the Apple App Store. The app is currently available for Apple products, but an Android version of the app is expected to be released in late spring.
IBA invites all conference attendees to stop by the In Case of Crisis booth (#415) during the SHRM Talent Management Conference and Exposition for a chance to win the New Apple iPad or to view live demonstrations. For more information about In Case of Crisis, please visit http://www.incaseofcrisis.com.
ABOUT IN CASE OF CRISIS
Developed by leading software and mobile applications developer, Irving Burton Associates (IBA), In Case of Crisis is the premiere smartphone app and crisis communication tool that makes it easier for companies, schools and government to better prepare for emergencies. For more information about In Case of Crisis, please visit http://www.incaseofcrisis.com.
ABOUT IBA
Irving Burton Associates (IBA) is a woman-owned professional and technical services firm of 250 employees based in Herndon, Virginia with regional offices in Denver, Colorado. Repeatedly named a top GSA vendor by Federal Times, IBA has provided software development and information technology services to the federal government, military departments, and commercial organizations since 1979. IBA specializes in delivering application solutions to include development of mobile applications, customer service systems, program management services, financial and acquisition management, and budget support. IBA is also recognized as a "Great Place to Work" company by the Washingtonian magazine.