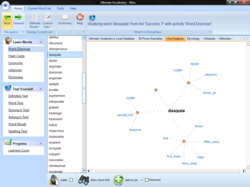 New York, NY (PRWEB) April 29, 2012
A glance around the inside of any public library is enough to confirm any suspicious; young people of today are wanting to utilize the latest technology within their learning. Ultimate Vocabulary™ is leading vocabulary improvement software and today they announce what they call the 'new generation' of technology-hungry youngsters.
"It is a marvelous thing to see," says Marc Slater, Managing Director of the company behind the Ultimate Vocabulary™ platform.
He continues, "We have been conducting some industry research and the results are clear – young people are eager to use the latest technology to help them learn. It's certainly a new and refreshing generation of young scholars, and it's going to produce awesome results."
Ultimate Vocabulary™ is in itself an authority of interactive learning. The computer-based software is helping thousands of people around the world improve vocabulary.
As Slater attests, computers are the best way of engaging people in this technological age:
"Most people in the developed Western world own a computer. On top of that, many of these also own cellphones or electronic devices that can connect to the internet and run fairly complex software. Therefore, these devices have to be the best way of integrating learning into natural life," he explains.
The sales figures Slater examined showed that a lot of technology software packages are being installed in schools, community centers and libraries – all arenas of active learning.
It would also appear that the mobile App world is heavily adopting learning as a bi-product of natural technology use. With tens of thousands of learning Apps now available for a myriad of devices, Slater believes that the world is looking forward to even more exciting ways to learn.
"App stores currently sell learning apps for young children right through to tools for the elderly. With everyone rushing to learn using technology it is interesting to imagine what the future holds. I'm sure it is going to be very exciting indeed," he concludes.
For more information on the Ultimate Vocabulary™ platform, please visit:
http://www.ultimatevocabulary.com
******
About Ultimate Vocabulary™
Ultimate Vocabulary provides a proven and powerful platform, built to improve anyone's vocabulary.
The interactive self-improvement system provides more learning tools than any other program on the market, as well as more information on words.
The Ultimate Vocabulary software provides each and every user with a personal computer tutor. Providing a step-by-step guide to learning a powerful vocabulary, Ultimate Vocabulary is the learning tool everyone can benefit from.
Of course, the software is also backed by eReflect's iron-clad money back guarantee.