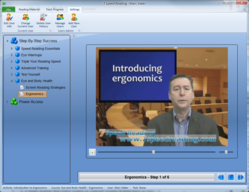 New York City, NY (PRWEB) April 30, 2012
Ask any child what their favorite part of the school day is and the answer will likely be 'lunch'. However, with schools devoting more and more time to the infamous break, 7 Speed Reading™ is urging children to be productive and read during the down-time.
In fact, the team at 7 Speed Reading™ is going one step further – calling on parents to consider packing a book into the lunch bag in the hope it will engage and inspire some mid-day storytelling.
"Lunch hour is a great time of day, but it doesn't take anyone a whole hour to eat," says Marc Slater, Managing Director of the company behind 7 Speed Reading™.
Continuing, "With this in mind, the hour presents the perfect opportunity for reading. We are calling on all parents to mention this to their children and spark their interest in literacy improvement."
The company has already attempted to kick-start the lunch time reading movement by recently releasing a list of their ten favourite children's books.
"In order to provide some inspiration, our team recently compiled a list of their ten favourite childhood books and we released it to the media as a resource for others to use" explains Slater.
It would appear that some schools are already well on their way to producing a nation of eager bookworms.
Numerous institutions up and down the country are already setting aside 'quiet rooms' allowing children to read in a silent and tranquil environment.
"This is perfect – we strongly encourage all schools to consider some kind of quiet or reading room. If we want children to read more we have to help them by providing the perfect environment for concentration," adds Slater.
For more information on the reading-improvement software developed by the company, please visit: http://www.7speedreading.com
About 7 Speed Reading™
7 Speed Reading is the only modern speed reading software that uses the latest technology to produce superior results.
The software provides its users with a new way to master speed reading that guarantees three times the reading speed along with improved memory and comprehension.
The software is poised as the most comprehensive speed reading system anywhere. It contains seven learning strategies, fifteen software activities, video training, advanced tracking capabilities and many more exciting features.