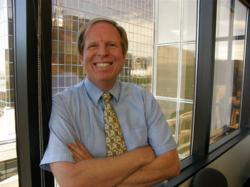 It is exciting when someone that has been viewed as attacking Mormons finds a reason to reach out in support of a Mormon.
Salt Lake City, UT (PRWEB) April 27, 2012
Rev. Robert Jeffress, pastor of First Baptist Church in Dallas, was a supporter of Governor Rick Perry's bid for the presidency when Jeffress referred to Presidential candidate Mitt Romney's religion as "a cult." Therefore, his more recent endorsement of Romney was hailed as an important step forward in Mormon-evangelical relations by MormonVoices. "It is important to recognize," said Scott Gordon, a managing director of MormonVoices, "that Mormons and evangelicals often share many common interests, and despite some theological differences, they can cooperate as friends and neighbors when those interests align."
In 1997, evangelical scholar Craig Blomberg and Mormon scholar Stephen Robinson asked "How Wide the Divide?" in their book of the same name, which explored theological differences between Mormons and evangelicals. However wide the theological divide may have been in the past, it seems that the cultural divide between evangelicals and Mormons has narrowed with Jeffress's support for Presidential Candidate Mitt Romney.
In January of this year, MormonVoices listed Jeffress at number five on its list of Top Ten Anti-Mormon Statements of 2011 for comments he made at the Values Voter Summit in October, where he said that Mormons are members of a "cult" and that "Every true, born again follower of Christ ought to embrace a Christian over a non-Christian."
Commenting on the more recent statement by Jeffress, Gordon said, "We hope that the example of Pastor Jeffress will encourage others to cooperate with their Mormon neighbors as they find ways that their mutual support can strengthen families, schools, and communities."
MormonVoices is not a political organization, and does not endorse candidates or align with political parties. Rather, MormonVoices was created to respond to false or misleading information in the media and is not affiliated with The Church of Jesus Christ of Latter-day Saints. "It is exciting," concluded Gordon, "when someone that has been viewed as attacking Mormons finds a reason to reach out in support of a Mormon."