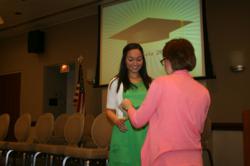 I was able to interact with doctors and nurses at the hospital--all of this before I even stepped foot onto a college campus or had an hour of clinicals.
Libertyville, IL (PRWEB) April 27, 2012
Despite the economy, Alissa Fiore, a senior at Mundelein High School, has good reason to be optimistic. She was accepted early admission to Illinois State University's college of nursing, a success she attributes to two years she spent in Advocate Condell's Penwasciz program.
Pen-what? "It's pronounced Pen-wah-zee," explained Fiore. "The name comes from the three things that nurses traditionally always carried: a pen, a watch and scissors."
Today, the Penwasciz program at Advocate Condell offers Lake County high school students an intensive, hands-on experience in the health care field. This Monday, a graduation ceremony was held at Condell to recognize 14 local high school students who completed the program, most of whom intend to go into the health care field after college.
"Our Penwasciz interns observe and work with medical professionals in the emergency department, patient care units, clinical laboratories, radiology department and pharmacy," said Patti Burke, a Penwasciz instructor and nurse at Advocate Condell. "They also can be found side-by-side with physical and respiratory therapists and other skilled clinical hospital staff."
Clinical experience is supervised by health care professionals at Condell. One of the primary goals of the program is to demonstrate that success in the care of a patient hinges on teamwork, while emphasizing hands-on training for the participants.
"The program got me comfortable with patient/healthcare provider interaction," said Fiore. "We saw pretty much everything except for surgery, which I really wished I could have seen. But we did ER, geriatrics, ICU, OB, Neonatal ICU, cardiac, every floor in the hospital. It gave me incredible insight into what my future career could be like, and I was able to interact with nurses and doctors at the hospital—all of this before I even stepped foot onto a college campus or had one hour of clinicals."
A career in health care may not be a bad choice right now. While unemployment in America still hovers around 8.2%, jobs in health care continue to rise. According to the U.S. Department of Labor, the health care and social assistance industry is projected to create about 28 percent of all new jobs created in the U.S. economy, which translates into approximately 5.7 million or 33% growth by 2020, making experiences like Advocate Condell's Penwasciz program an invaluable start for students who might be interested in a career in health care.
This may be one of the reasons why acceptance into Advocate Condell's Penwasciz program isn't easy.
"This past year, we got over 75 applications for 14 available spots," said Burke. "To give you an idea of how popular this program is, within 15 minutes of the application link going live on our site, we received 25 applications. We opened the link at 3:30 in the afternoon and closed it at 8 p.m."
To be accepted into the program, a student must exhibit a sincere interest in learning about health careers and a commitment to the program; be a Junior or Senior high school student and maintain a 2.5 GPA throughout the year; attend one full day orientation session (held on a Tuesday or Saturday in October) and one 2-hour session per week during the academic year; and assume responsibility for weekly assignments.
"I'd recommend this program for anyone who might be interested in a career in health care," added Fiore. "I wouldn't trade my experience in the Penwasciz program for anything."