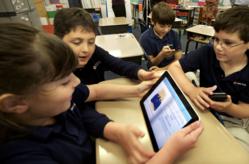 A book app is a new way for kids to read, because it's a hybrid of an eBook and a game.
Cooper City, Florida (PRWEB) April 26, 2012
A sixth-grader and his fourth-grade sister helped their mom design key elements in Brush of Truth, a book app created to get tweens to read. The app was released by Story Bayou, founded by mom Julie Landry Laviolette to make interactive storybook apps.
Ian Laviolette, 11, an avid gamer, designed the tracking system in Brush of Truth, which lets kids choose what happens next in a story. Brush of Truth, a story about two tweens who find an enchanted paintbrush, has 65 decision points and 20 possible endings. Readers find an ending, then can go back and make different choices to explore a new path.
"I play a lot of games, and there are indicators on the games I play that show when something important has happened," Ian said. "I looked at the app and realized that it needed indicators, because I didn't want to read the same pages over again. You don't have to backtrack as much, so it saves time."
Ian created a simple system of green dots, checkmarks and crowns that lets Brush of Truth users know where they have been, and what is still unexplored. Chloe Laviolette, 9, approved illustrations, read copy and brainstormed title ideas to make sure the product appealed to her age group.
"Since we are kids and the book was made for our age group, we know what our generation likes," Chloe said. "It was important that my mom include us so we could tell her 'We would like that,' or 'That's funny.'"
Written in second person, "your" voice, Brush of Truth casts the reader as the main character, letting them choose how the action unfolds at critical points in the plot. The app is $1.99 and available on the iPad, iPod touch, iPhone, Kindle Fire, as well as Android and Windows smartphones and tablets.
Julie Landry Laviolette, a parenting journalist, wrote Brush of Truth and created its parent company, Story Bayou. When it came to creating the app, she went to the kids in the carpool, the neighborhood and in her own home for inspiration.
"A book app is a new way for kids to read, because it's a hybrid of an eBook and a game," Laviolette said. "I wanted to get kids involved in the design process, because they're intuitive about technology, and they know what they like."
Son, Ian, thinks that was a smart move.
"You get the point of view of the kids, not just the critics," he said. "You need to have the kids involved to see if kids will like it."
The interactive nature of Brush of Truth engages kids in reading through their love of high-tech gadgets, Laviolette said. Teachers and parents are using the app to excite kids about reading and inspire them to write.
Brush of Truth introduces an enchanted paintbrush that two kids find while playing on a beach. They soon learn it is the long lost Brush of Truth, created by a medieval sorcerer to transfer his powers to his children. The kids began to uncover the paintbrush's powers as they go on different adventures.
Story Bayou, http://www.storybayou.com, founded in 2011, partnered with Linxter, Inc., a Cooper City software engineering company, to create the mobile app. Landry, a New Orleans native and former Times-Picayune editor, now contributes to The Miami Herald and regional parenting magazines in the U.S. and Canada. Brush of Truth was released in February 2012.