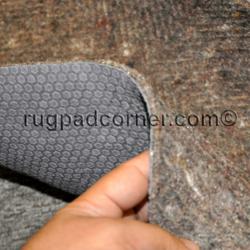 Wilton, CT (PRWEB) April 27, 2012
Rug Pad Corner, the online source for quality rug pads, announces that its Superior felt and Ultra Premium felt and rubber rug pads have been rated as best rug pads to use on all types of laminate floors. Thousands of customers using the rug pads for significant amounts of time all stated that the rug pads protected their laminate floors without causing any damage.
"We have always manufactured our rug pads without the common glues or adhesives found in most rug pads," states Sam of Rug Pad Corner. "For this reason, our felt rug pads are completely safe for all laminate floors." Sam continues to say that one of the main concerns of most customers with laminate floors is to get a rug pad that will not discolor or stick to the floor. Most of the rug pads available today contain some sort of chemical or adhesive that damages the floor.
There is a very good reason why the felt rug pads by Rug Pad Corner are safe for laminate floors. The company does not involve any chemicals or adhesives in the production of its products. Superior is a 100% recycled felt rug pad and Ultra Premium is a recycled felt and natural rubber rug pad combination. Neither of the rug pads contains the common adhesives that are used to keep the fibers together. Instead, the company uses an intense heat pressing process to compress the felt in Superior and to attach the rubber to the felt in Ultra Premium. "We do all in our power to avoid glues and adhesives in order to maintain the quality and safety level that our rug pads have come to be known for," comments Sam.
Rug Pad Corner offers felt rug pads for laminate floors in all sizes and shapes on the company web site. Rug pads can be custom cut at no additional charge and all orders ship for free within the contiguous United States. While returns are rare, the company also offers a free return shipping policy.