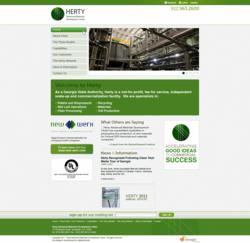 Savannah, GA (PRWEB) April 25, 2012
eMarketSouth, a local website design and branding company, has released the Herty website and is proud to add it to their ever growing portfolio of work.
This website was carefully crafted between the hard work of the eMarketSouth design and production team and the talented group behind Herty Advanced Materials Development Center. The content is managed through ExpressionEngine Content Management System, which gives Herty the full control over the content of their website in an easy to use format. Users to the site will be able to learn about Herty, what they do at their facilities, the technology behind their work, who their customers are, and who Herty partners up with on their projects.
Herty is a Georgia State Authority that is a not-for-profit. They are a fee for service, independent scale-up and commercialization facility based here in Savannah, GA. Herty specializes in:

Pellets, Bioproducts and Feedstocks
Wet Laid Operations and Calendering
Pulping, Recycling, and Stock Preparation
Materials
Laboratory Services
Toll Production
You can view their new website at: http://www.Herty.com
eMarketSouth is a web development and branding company that serves the internet marketing needs of not only the Savannah, GA market but also clients nationally. Their strategy is simple: provide our clients with the tools they need to build their business locally and globally. Need a new website or advice on your existing one? Contact eMarketSouth at: http://emarketsouth.com/contact/ or call (912) 356-1140.