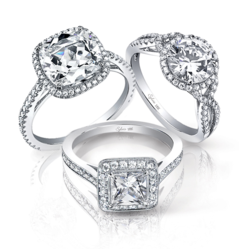 "Each piece in the Collection symbolizes the relationship of a lifetime," says Sylvie.
New York, NY (PRWEB) April 26, 2012
Sylvie Collection is giving moms a reason to say 'I DO' all over again this Mother's Day with diamond engagement ring restyles. Recrafting an existing diamond engagement ring into new Sylvie Collection designer setting is the perfect way to celebrate mom and help her renew her marriage commitment this Mother's Day. Wit h re-styling a major part of the Sylvie Collection brand, a diamond 'do-over' can start as low as $900. The brand has made re-styling a focus for married couples, offering endless possibilities for couples to upgrade their setting.
The allure of using a Sylvie Collection setting comes with the luxury of perfect personalization. Any one of the engagement rings or wedding bands in the vast collection of settings can be customizable using a center stone from an existing ring. Featuring hand-selected top quality diamonds set in unique styles to maximize brilliance, designer Sylvie Levine has created hundreds of engagement ring and wedding band styles divided into 14 different collections. All of the collections are personal celebrations of love. Each and every one is named after French term of endearment, Sylvie's native language. "Each piece in the Collection symbolizes the relationship of a lifetime," says Sylvie. In fact, it is with her husband Ian that Levine designs diamond engagement rings, wedding bands and bridal jewelry everyday.
As one of the only female designers in the male-dominated bridal ring industry, Sylvie is committed to designing diamond jewelry that is timeless, versatile and sophisticated—at every price. Over twenty five years of experience and intricate stone setting techniques make her a rare female diamond expert in the engagement ring market today. Sylvie Collection uses the highest quality of materials, including hand-engraving and milgrain details as well as settings made of platinum, 18K yellow, rose and white gold. For more information on Sylvie Collection, log on to http://www.SylvieCollection.com or contact Studio PR, 212-696-1321.