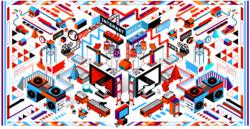 New York, NY (PRWEB) April 25, 2012
To make the fifth annual Internet Week New York the most visually appealing ever, festival organizers have turned to local creative agency Vault49 as its official creative partner.
Based on Vault49's award-winning portfolio, as well as its dedication to craftsmanship and storytelling, the Internet Week New York team looked to the design studio to create a fresh, cohesive visual identity for the Citywide event, design major elements of the spacious new headquarters at Soho's stunning 82 Mercer building, and offer creative support to the festival's other sponsors.
"Vault49 has been producing innovative and cutting edge work for more than a decade and we are thrilled that it is now bringing its design expertise to this year's Internet Week New York," said David-Michel Davies, Chairman of Internet Week New York. ""The entire team shares our vision for offering festival-goers a fun, fresh, and unforgettable experience this year."
"We're honored to collaborate with Internet Week New York in this official capacity. The festival really celebrates so much of what we love about our adopted home town – the merging of creativity, fun and innovation. Bringing our broad skillset and imagination to the party is an ideal opportunity for us," said Jonathan Kenyon, creative director of Vault49.
Taking place from May 14th-21st, 2012, Internet Week New York 2012 is expected to bring more than 35,000 people from around the world. The festival comprises nearly 250 events at its new 50,000 square foot, two-story headquarters and dozens of locations throughout the city. Marquee events include The Webby Awards hosted by Patton Oswalt, The Webutante Ball, and Time Inc.'s "10 NYC Startups To Watch".
The festival is organized by the International Academy of Digital Arts & Sciences (IADAS), in cooperation with the Mayor's Office of Media and Entertainment. Other sponsors of Internet Week New York 2012 include: Presenting Sponsor Yahoo!, and Official Sponsors Vitamin T, A+E Networks, Uber, ATT AdWorks, Netmining, NBC 4 New York, Slalom Consulting, Juicebox, and Demand Media. Partners include: Creators Project, VICE, Design Within Reach (Design Partner), GrandLife's Soho & Tribeca Grand Hotels, General Assembly, Roomorama and media partners The New York Times, Flavorpill, Financial Times, The Next Web, and Refinery 29.
ABOUT VAULT49
Celebrating 10 years of pushing creative boundaries, Vault49 is an artistic collaboration, a playground, and a creative incubator for innovative design projects. Known for work that is characterized by a focus on craftsmanship, multi-media and an expressive use of color, the studio strives to further blur the boundaries between art and design, and to evolve the relationship between art and industry through a diverse range of communication mediums. Learn more at http://www.vault49.com.
About the International Academy of Digital Arts and Sciences
The International Academy of Digital Arts and Sciences was founded in 1998 to help drive the creative, technical, and professional progress of the Internet and evolving forms of interactive media. An international organization, The Academy selects the Nominees and Winners for The Webby Awards, the leading international award honoring excellence on the Internet in addition to presenting Internet Week in both Europe and New York. The Academy is an intellectually diverse organization that includes members such as musicians Beck and David Bowie, Internet inventor Vint Cerf, political columnist Arianna Huffington, The Simpsons creator Matt Groening, R/GA Founder and Chairman Robert Greenberg. Find more information at http://www.iadas.net.
About the Mayor's Office of Media and Entertainment
The Mayor's Office of Media and Entertainment consists of the Office of Film, Theatre and Broadcasting, the Office of Digital Coordination and NYC Media, the official TV, radio and online network of the City of New York. The agency's mission is to streamline government communications by making information accessible, leveraging technology to aid in the transparency of government and by supporting relevant media and entertainment industries in New York City. Visit nyc.gov/mome. to learn more or follow NYC Media on Twitter at twitter.com/nyc_media.