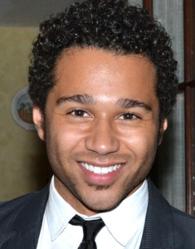 New York, NY (PRWEB) April 26, 2012
Corbin Bleu became a household name as Chad Danforth in Disney's smash hit television movie "High School Musical," and later made his Broadway debut in 2010 as bodega-owner Usnavi in the Tony Award-winning musical "In the Heights." He recently returned to the Great White Way to star as Jesus in the revival of the legendary musical "Godspell" at Circle in the Square. TheaterMania recently spoke with Bleu about taking on this demanding role.
"I knew the music, but have never seen a stage production until I was in New York a couple of months ago and Jim Caruso took me to see this production and introduced me to Danny Goldstein, the director. That's when I found out that they were thinking about me for the role of Jesus...[The rehearsal process] was two weeks, which was the same that I had for 'In The Heights.' It is such a short amount of time. I worked with the director, musical director, and dance captain. And then I got about eight hours of rehearsal with the full cast before my first performance."
TheaterMania currently has a discount ticket offer for "Godspell" where ticket buyers can save over 35% on select seats and performances through September 2. Click here for more information and to purchase discount tickets.
Every week TheaterMania releases new Broadway ticket discounts of up to 50% off to the general public. The ticket discounts are for the best available seats and ticket prices are never marked up. Ticket buyers get the best seats at the best prices every time they buy Broadway tickets from TheaterMania. Because tickets are available well in advance, theatergoers can plan ahead and get the best deals.
There are three simple ways to buy discount Broadway tickets from TheaterMania. Tickets can be purchased online, by phone, or at the box office. To buy online or by phone ticket buyers use a discount code available exclusively on TheaterMania.com. To save additional money and avoid service fees ticket buyers can take a voucher available on TheaterMania.com to the box office. The offers are subject to availability, and may have expiration dates and blackout periods. Most performances and dates are usually available.
For more up-to-the-minute theater news, show listings, video, features, reviews of Broadway Shows and tickets visit TheaterMania.com.
About TheaterMania.com, Inc.
TheaterMania.com is the information and ticketing source for over 5,000 shows nationwide. For over ten years, TheaterMania.com has connected the theater community to the public as the leading online resource for consumers to find shows, get tickets, and save money to theater nationwide. TheaterMania.com publishes comprehensive show listings, provides Broadway ticket discounts, editorial content, and video coverage for over 40 markets and widely distributes free email newsletters and special offers to over 675,000 registered subscribers. In addition, TheaterMania.com creates online marketing programs for performing arts organizations, and provides technology to power ticketing, fundraising, and CRM through its proprietary software, OvationTix.