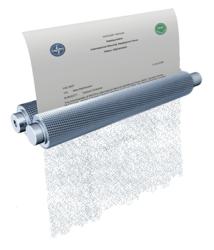 Markdorf, Germany (PRWEB UK) 27 April 2012
Martin Yale International is merging the features of two of its best-known lines of paper shredders to create a new standard for high security information assurance, ease of use for the everyday office environment, and ecologically-friendly operations that save energy.
The intimus® CRYPTO line of shredders has been recognised as setting a high standard for data sanitization and information assurance, delivering some of the industry's tiniest shred sizes and ensuring that customers can safely destroy their sensitive documents to protect trade secrets and other confidential data.
Now Martin Yale is replacing several models of its intimus CRYPTO shredders with new versions based on the modern design of the company's popular intimus PRO line.
Effective during the 2nd quarter of 2011, the former CRYPTO model numbers 302, 402, 502, 602, 702 and 007SX were replaced by the new intimus 45, 60, 90, 120 and 175. (Existing intimus CRYPTO models 007 SE, SF and SL will remain unchanged and will continue to be available for sale.)
The new intimus shredders are designed for deskside and department-level shredding. The machines combine the high security shredding features and tiny shred particles of the intimus CRYPTO line, while also incorporating several new features and design elements adopted from the intimus PRO line.
"After consulting with our customers and distribution partners around the world, we felt that the time was right to bring together the best aspects of both of the intimus CRYPTO and PRO shredder lines," said Markus Sattel. "These new shredder models will enable organizations to achieve the highest standards of information assurance while also enjoying greater ease of use, eco-friendly features, and an overall more modern and engaging design."
Key features of the new intimus shredders include:

More choices of security levels: The intimus shredders offer a choice of high-security shred sizes, with models available in CC5 (0,8 x 12 mm particle size = European DIN level 5) and CC6 (0,8 x 4,5 mm = European DIN Level 5 and in accordance with NSA standards for classified document destruction). The new line of intimus shredders can deliver the absolute highest standards for shred particle size.
EcoLogic introduces "green thinking" to the information security world: Each of the new intimus shredders is equipped with EcoLogic for eco-friendly functionality. Each shredder automatically goes into "sleep mode" after it has been idle for 30 minutes, thus reducing its power consumption to zero. The machine can quickly resume operational status at the touch of a button.
Silent performance: The new line of intimus data shredders feature Silentec®, a completely new design of the bearing of the cutting head that results in maximum absorption of the vibrations generated during shredding. Not only are these shredders among the most silent models in their class, but the sound pattern is actually acoustically pleasing.
Clear controls: Each machine includes a centralised control panel called i-control®, which gives an easy-to-read visual information centre for maximum clarity in operator guidance. Ergonomically designed function buttons enable the operator to switch the shredder on and off, easily clear paper jams, receive notification when the machine needs maintenance, and program additional features such as access protection.
Avoid paper jams: Each intimus shredder is equipped with unique DLS (Dynamic-Load-Sensor) technology, which detects and monitors the volume of paper as it is being fed into the cutting unit. The user sees colour-coded lights to indicate whether the paper feed is within the appropriate level, thus avoiding paper jams and misfeeds.
Automatic Oiler: In order to maintain a maximum shredding capacity of the top precision cutting mechanisms as long as possible all machines can be equipped with a built-in automatic oiler. This ensures permanent oiling and making sure that the shredders will achieve the nominated sheet capacity even at peak times.
"Customers can now enjoy the best of both worlds – the high security shredding of intimus CRYPTO combined with the user-friendly design elements that make the intimus PRO a welcome addition to any office environment," said Markus Sattel. "This new line of shredders will introduce a new generation of customers to the ease and efficiency of intimus products."