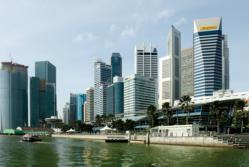 Hanover, Germany (PRWEB) April 25, 2012
At the Festo exhibit at Hanover Fair today, company spokespeople discussed the need for advanced solutions in delivering clean water to global populations. According to the 2012 World Water Report, almost one billion people still have no access to clean drinking water. Both population and economic growth are driving demand for this scarce resource. Increasing urbanization is also placing an extra burden on the drinking water supply and wastewater disposal infrastructure.
"Resource and energy efficiency in water and wastewater are central issues that we will have to tackle more actively in the future," says Dr. Eckhard Roos, Head of Process Automation at Festo. He adds: "Water treatment plants account for a full 20 percent of the electrical energy used by local authorities in Germany." We need to reduce the cost of automating water treatment infrastructures while at the same time improving energy efficiency and promoting the use of robust technologies that can, for example, operate plants without any electrical energy at all. Another future challenge in water technology will be to reduce the operating costs over the life cycle of the plants and to increase the availability of the systems.
As well as exhibiting new products at the Metropolitan Solutions special event, Festo will above all be showcasing complete solutions and application examples with efficient control concepts for automating water treatment plants. A current reference project in Germany will illustrate how solar energy is ideal for automating water technology infrastructure.
Energy self-sufficient automation in water management
Alexander Riek, who is heading up the project "Energy self-sufficient automation of decentralized water reservoirs in water management," shows how solutions from process automation can be turned into sustainable solutions for cities and local authorities. The automation solution used in the plant is based on regenerative energy in the form of solar energy and ensures that the maximum outflow from the rainwater overflow basins to the associated wastewater treatment plant is not exceeded. Using a GSM modem, the entire system can be controlled and monitored from the remote control center for the wastewater treatment plant. The advantages of this energy self-sufficient pneumatic solution are clear: the system allows fully automated operation even in areas where there is no normal power supply. This saves the operator time and money because the slides can be actuated from a central location when necessary. The investment costs for connecting the plant to the public energy supply network can also be saved. With this automation concept, Festo is demonstrating an innovative, energy-efficient solution for decentralized applications in process automation.
A concept like this can also be used in cities around the world. In other parts of the world, rainwater retention basins are often located in areas where there is no regular power supply. This means that the slide valves for releasing the dammed water usually have to be manually opened and closed, which causes delays and requires a lot of personnel. "In the megacities of the future we'll see applications for energy self-sufficient, decentralized automation solution not only used for drain water in rainwater basins, but also for drinking water, for example for managing pressure in drinking water systems", stresses Alexander Riek.
DMAG's flagship project – water treatment in Egypt
In this exhibition area, Festo will be presenting an automation solution it created for multiple drinking water treatment plants in Egypt. An integrated automation solution had to be designed to control the fixed-bed filters needed to remove turbidity from the untreated water taken from the Nile while also taking into account the local conditions.The process technology had to be decentralized, modular and flexible, as well as combining pneumatic and electrical components. Festo's solution for automating drinking water abstraction in several waterworks throughout the sprawling city of Cairo saves both water and energy.
For sales information, call Festo at 800-993-3786 and visit http://www.festo.com/us. Follow us on Facebook, http://www.facebook.com/FestoUSA.
###