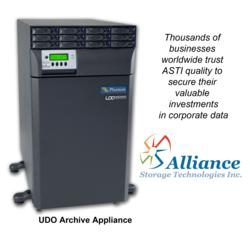 Colorado Springs, Colorado, USA and Giza, Egypt (PRWEB) April 25, 2012
Alliance Storage Technologies, Inc. (ASTI), the primary source for professional data archiving solutions, announced they are attending the 16th round of the Cairo ICT Trade Fair and Forum being held at the Cairo International Conference Center April 26 – 29, 2012. The theme for this year's conference is "The Spring of Technologies" which fits well with ASTI's emergence as the premier manufacturer of data archiving solutions.
Craig Hatter, Director of Sales, EMEA at ASTI and Mr. Tarek Soliman, Managing Director from Nile Integration, ASTI's partner in the Middle East, will be poised and ready to discuss industry best practices encompassing leading edge enterprise data archiving strategies. Please visit them at their booth in Hall 4 where they will be available to discuss scalable solutions for business archiving needs.
In addition to providing information on professional data archiving solutions and optical data storage, the booth will have on display an operational Plasmon® UDO™ Archive Appliance. The AA 80 will feature two UDO2™ optical drives along with 80 media slots providing the total storage capacity of 4.8 terabytes. This is one of many solutions that ASTI offers in its product suite to meet and exceed today's challenging regulatory demands for secure archival data.
The UDO Archive Appliance employs a fully integrated, network-attached (NAS) architecture that leverages the strengths of RAID and UDO (Ultra Density Optical) technology to meet essential archive requirements. The AA establishes a new standard for Enterprise archival storage. It easily integrates with content management, email and imaging applications and enables organizations to deploy an archival storage strategy that meets their compliance and risk management requirements at a very low total cost of ownership.
About Alliance Storage Technologies, Inc.
Alliance Storage Technologies, Inc. (ASTI) is the primary source for professional data
archiving solutions worldwide that meet and exceed today's challenging regulatory demands for secure archival data. Professional solutions provide value to any industry including: Healthcare, Finance, Government, Insurance, Legal, and more. These regulatory-compliant systems preserve unaltered data for extended periods (greater than 50 years) at an exceptionally low total cost of ownership.
Scalable product offerings include: Direct and Networked-Attached (DAS/NAS) Plasmon® storage libraries, with Ultra Density Optical (UDO™) as the core technology, related Write-Once-Read-Many (WORM) media, and archive software. Best-in-class global support services are available to sustain customer installations. Additionally, a complete line of certified Plasmon® parts are available. ASTI is committed to providing every customer with exemplary customer service and support from first contact through the life of the relationship.
Thousands of businesses worldwide trust ASTI quality to secure their valuable investments in corporate data.
For further information, please visit http://www.alliancestoragetechnologies.com, or call 719-593-7900.
About Nile Integration
Nile Integration is a System Integrator Company founded in 2008 by a group of IT Experts; they have worked in IT field for more than 20 years. Nile Integration provides system integrated solutions and professional services included design and implementation of Cabling infrastructure , Hardware solution , Networks solution, Operating Systems , Databases , Applications , Security solutions , IT services management , Project Management , Training and Technical support services.
Nile Integration is committed to offering every client an optimum combination of products and services, tailored to meet their needs with a first class of after sales support. These services will be delivered on time and on budget, and we will exceed our customers' expectations with high quality products, competitive prices and a consistent and responsive professionalism.
For further information, please visit http://www.nile-integration.com
About Cairo ICT
Cairo ICT Trade Fair and Forum is the oldest and most prominent specialized ICT event taking place in North Africa and Levant. The first Cairo ICT was held in 1996 and has ever since been home for hosting and launching major Egyptian and Arab ICT initiatives. The exhibition showcases the latest technology products and solutions in fields of ICT, networks, computing, satellites, and broadcast systems. Over the past 15 years, the exhibition has attracted more than 500 thousand specialized visitors and over 4600 Egyptian, Arab, and multinational companies, as the exhibition is directed to business, investment, and many other development sectors. Cairo ICT also includes a shopper area under the name "The Mall".