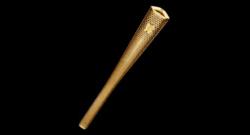 I am delighted we have such a brilliantly designed, engineered and crafted Torch that will help to celebrate the amazing personal achievements of each of our 8,000 Torchbearers and give them their moment to shine
(PRWEB) April 25, 2012
The London 2012 Olympic Torch was recognised as the Design of the Year at an awards ceremony hosted by the Design Museum.
The Torch, designed by studio Barber Osgerby, was chosen from 89 entries to claim the winning title. Made of aluminium, it will be carried over 8,000 miles over the course of its 70-day Torch Relay, and is perforated with 8,000 circular holes representing the 8,000 Torchbearers. Aside from being decorative, the holes also help reduce the weight of the torch and prevent heat conduction.
The London 2012 Velodrome on the Olympic Park also won the Architecture Award. The Velodrome is one of the most sustainable and iconic venues of the Games.
Sebastian Coe, Chair of the London 2012 Organising Committee, said: 'The Torch is one of the most recognisable symbols of the Olympic Games and we are thrilled that our design has won this prestigious title. I am delighted we have such a brilliantly designed, engineered and crafted Torch that will help to celebrate the amazing personal achievements of each of our 8,000 Torchbearers and give them their moment to shine.
'It is also fantastic news that the stunning architecture of the London 2012 Velodrome has won an award and welcome recognition of the landmark new buildings the Games are bringing to London.'
Deyan Sudjic, Director of the Design Museum, said of the winning entry: 'Nothing is harder to get right than designing for the Olympics. The lightness and simplicity of Barber Osgerby's London 2012 Olympic Torch does just that. The Torch not only captures the spirit of London as Olympic Host City but also demonstrates how design can celebrate traditional ideas in a modern way.'
For further information please contact the London 2012 Press Office
###