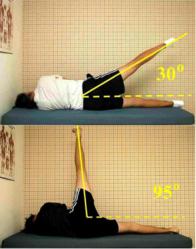 With Somax Tension Reduction, this athlete increased his flexibility in just four weeks 300% beyond what he was able to get from stretching alone.
Tiburon, CA (PRWEB) April 27, 2012
Somax Performance Institute (web: somaxsports.com), the world leader in analyzing, measuring and improving sports performance, has developed a new Tension Reduction program that improves flexibility 300% beyond what stretching alone can do. The Institute, which works with high-profile individuals from the sports and business communities, improves performance far beyond conventional coaching and training with its unique program of motion analysis and Microfiber Reduction.
Now Somax has added Tension Reduction to its program, making it more effective than ever. By selectively fatiguing specific muscle groups, Somax can help athletes improve their flexibility 300% beyond what they have been able to achieve from stretching.
Athletes are unaware that they responded to the common non-serious impacts in football, ice hockey, soccer, baseball, basketball and martial arts by tensing their muscles. They are also unaware that this tension persists for decades after each incident. It is the accumulation of this tension over time that makes athletes stiffer with age and degrades their performance.
Tension can also result from chronic overuse such as lifting weights, running, swimming with hand paddles and carrying heavy backpacks.
"Until the development of Tension Reduction, there was no way to release the tension that often started at the beginning of an athletic career" says Bob Prichard, Director of Somax Performance Institute. "Since tension restricts flexibility over time, athletes nearly always have serious range deficits at the peak of their career, or, in the case of senior golfers, just at the time when they have the leisure to enjoy their sport."
Remarkable before and after photos showing the amazing results of Tension Reduction can be seen at
http://www.somaxsports.com/clients.php
Somax Insight into Stubborn Stiffness
Many athletes find that stretching does not significantly improve their flexibility. They often mistakenly attribute it to inherent stiffness ('I have always been stiff') or age ('everyone my age is stiff'). But Somax has discovered that stiffness is just a result of stress and that it can be reversed once its origins are identified.
Somax has developed a formula that describes the origins of stiffness: STMR, or Stress, Tension, Microfibers, Restriction

Stress can be any physical or mental stress, such as the common impacts of contact sports; falls on the ice during hockey, falling off a bike or on the playground; and games of football, hockey, soccer, basketball and baseball.
Stress can also be overuse, such as lifting weights, push-ups, sit-ups, pull-ups, running, swimming with hand paddles or pull buoys, and carrying heavy backpacks.
Stress can also be mental stress, such as family or business problems.
The most common reaction to stress is tension. We tense our muscles anytime we are under any kind of stress. Unfortunately this tension persists long after the stress has passed. This tension cannot be released by meditation, stretching, exercise or massage.
Once the muscles tense up, the connective tissue starts creating microfibers, a mild form of scar tissue, in the connective tissue between the muscles. These microfibers cannot be released by stretching or conventional massage. The combination of tension in the muscles and microfibers in the connective tissue is responsible for chronic stiffness, or restriction in athletes.
Tension can be released with the Somax Tension Reduction program and the microfibers can be released with the Somax Microfiber Reduction program. Both programs together can reverse age-related and chronic stubborn stiffness in athletes.
The Somax programs of Microfiber Reduction and Tension reduction have improved performance in athletes far beyond conventional coaching and training programs.
About Somax Performance Institute
Since 1970, the Somax Performance Institute has helped athletes of all ages improve their performance by improving their efficiency--rather than their strength and endurance. Their 17 Olympic athletes have won 44 Gold Medals and have set 11 World Records. Their pro golfers have won the US Open as a rookie, increased their putting from #113 to #1, quadrupled their tour income and increased their longest drive from 295 to 400. Amateur golfers have increased their distance, lowered their handicap and eliminated back pain.
Runners have cut a minute per mile off their running pace and swimmers have cut their stroke count in half while improving their swim times.
Baseball players have increased their long ball from 400 to 480, their bases stolen from 14/15 to 32/33 and their income from $500K to $1.75 million.
Contact:
Bob Prichard
Somax Performance Institute
Web http://www.golf-swing-video.com
Email. bprichard(at)somaxsports(dot)com
Tel. +1-415-435-9880