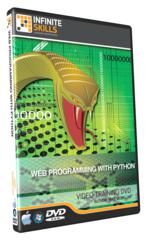 Learn Web Programming with Python Quickly and Easily
(PRWEB) April 25, 2012
Technology training firm InfiniteSkills Inc. last week introduced its Web Programming with Python Tutorial, an introductory training course designed to assist new Python users in adding complexity and detail to high level web-based applications.
Python is most commonly used as a scripting language for web-based programs. It is designed to offer a broad range of capabilities, sporting compatibility with multiple types of servers, databases, and web frameworks, while at the same time offering a very user friendly language with highly readable code.
Web Programming with Python Training Video - Tutorial
Python's virtually unlimited capabilities have made it indispensable in creating and managing complex web applications. But while the range of capabilities can be staggering, learning to use Python's basic commands and techniques can be made accessible to the beginner, according to the author of the InfiniteSkills course.
Professor Mike McMillan, a programming expert with more than a decade of experience teaching various programming languages, and more than 25 years in computer programming, says that the challenge of this Python tutorial was figuring out how to streamline Python's capabilities while providing access to its power.
"Due to the extensive library system Python provides," he says, "there are many different options available to the programmer. It took quite a bit of work to distill those libraries down to the essentials that the viewer needs to know to accomplish the tasks they are interested in performing."
In the InfiniteSkills Web Programming with Python Video Training - Tutorial, McMillan guides users through all the concepts necessary for moving forward with a basic knowledge Python, reviewing the basics of web programming and Python installation, and continuing through performing essential Python functions.
Users will find a detailed introduction to database programming with Python, including a guide to installing an SQLite server and performing routine data selections and operations. McMillan also explains how Python interacts with FTP and email services and processing web form data with using native Python code.
The course concludes with a chapter dedicated to configuring and using Django, a web framework commonly used in conjunction with Python which facilitates the construction and administration of complex database-driven websites.
McMillan adds that users can expect to come away with a firm grasp of ready-to-use Python essentials, providing them with the ability to add as much complexity as they want to their web-based programs.
InfiniteSkills offers its Web Programming with Python Video Tutorial either as a DVD-ROM or a direct download from the company website at a retail price of $99.95. All InfiniteSkills titles and formats are compatible with both Mac and Windows, and shipping is available across the globe. Additionally, InfiniteSkills tutorials are supported by project files which correspond to examples in the training video.
Free demo videos and a full list of course contents can be found on the Web Programming with Python training page on the company website:
Web Programming with Python Tutorial DVD
About InfiniteSkills Inc.
A leader in the field of technology training, InfiniteSkills offers an innovative, task-oriented model for teaching complex technology concepts. InfiniteSkills offers a comprehensive range of software tutorials as DVDs, digital downloads, and in iPad editions, keeping with company aim of delivering professional training to customers anywhere they want to learn.