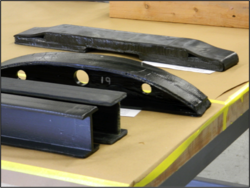 Students in these programs are being trained to be composites technicians, but as the industry grows I see them being able to do more--I see them as the leaders of the future.
Salt Lake City, Ut (PRWEB) April 26, 2012
The Utah Society for the Advancement of Material and Process Engineering(SAMPE) hosted a statewide bridge-building competition at the Salt Lake Community College composites lab on April 11, 2012. Students enrolled in advanced composites training from Salt Lake Community College (SLCC), Davis Applied Technology College, BYU and the University of Utah entered the competition to demonstrate their skills to industry representatives, experts, guests and faculty, and competed for prizes up to $200.00.
Twenty seven students participated in the competition. Eligible participants were required to construct a bridge that was fewer than four inches wide, four inches high, 26 inches long and lighter than 650 grams. Using the College's Instron, a testing device that measures strength–students bridges were put to the test. Kevin Wagner, a student from BYU, placed first place in the competition with a bridge that withstood the weight of 9,497 pounds before bowing or breaking.
Advanced materials, such as carbon fiber and other composite materials are revolutionizing a variety of industries–everything from aerospace engineering and automobile construction to golfing, skiing and cycling equipment. As more products previously made from metal, wood or steel are converted to composites, companies with facilities in Utah such as Exelis (ITT), Janicki Industries, ATK, and Boeing have an increasing need for highly qualified composites technicians.
To meet the demands of Utah's industry growth and open career pathways, colleges, industry experts and professional associations are working together to find ways to educate the public about training and career opportunities in the advanced material and processing industry.
Lenn Riddle, Program Chair for SAMPE is already planning next year's bridge competition. Riddle hopes to have 'teams' that are comprised of students from two or more schools. A cross pollination of schools would provide students from both technical/hands-on programs and theoretical/engineering programs to collaborate with each other to build a single bridge.
Emily Johnson from SLCC's Composites Technology Training spent more than 15 years in the medical field before entering the composites program. While in the program, Johnson learned how to use several machines, tools and equipment to manufacture composite products. One of two females in her cohort, Johnson lauded the program's benefits for women. "It's a great career for women because it requires a lot of manual dexterity," said JoAnn Matern, Education Chair of SAMPE. "We have several women go through the program and they are very good at it!"
The SLCC Composites Technology Training offers three levels to the certificate program that can be completed in as little as ten-weeks. As a growing key industry in the state of Utah, graduates have a large pool of companies to work for, especially in the aerospace and outdoor products industries.
"I really appreciate the training. I was laid off from a job in January, and I really wanted to better my skills for the job market. Now I am in the position of deciding which job I want to take," said Brent Swenson, student in the Composites Technology Training at SLCC.
"Students in these programs are being trained to be composites technicians, but as the industry grows I see them being able to do more," said Matern. "I see them as being the leaders and managers of the future."
About the SLCC Composites program: Salt Lake Community College's Composites Technology Training is the center for expert composites training and education. Conveniently located in the heart of the Salt Lake Valley, the Composites Technology Training Center is equipped with a state-of-the-art laboratory. The program offers a blended format of classroom instruction with hands-on projects, providing students with the knowledge to skillfully create, handle and process composites materials.
About SAMPE: The Utah Society for the Advancement of Material and Process Engineering, an international professional member society, provides information on new materials and processing technology either via technical forums, journal publications, or books in which professionals in this field can exchange ideas and air their views. As the only technical society encompassing all fields of endeavor in materials and processes, SAMPE provides a unique and valuable forum for scientists, engineers, and academicians.
# # #