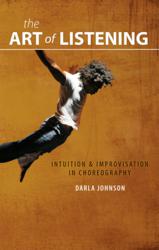 Listening is exactly where we need to start.
– Author Darla Johnson
Waco, TX (PRWEB) April 26, 2012
The Art of Listening: Improvisation & Intuition in Choreography, released in April, takes the reader on a guided tour of the different landmarks of listening needed to take a dance from idea to actuality. The world of dance revolves around listening – to other dancers, students, the environment and to oneself.
"Listening is exactly where we need to start," said Darla Johnson, author of The Art of Listening: Improvisation & Intuition for Choreography. Johnson writes from her vast experience in dance, including a position as the co-artistic director for the Johnson/Long Dance Company for 15 years and founding the Dance Department at Austin Community College in Austin, Texas.
Stepping out of comfort zones and following the voice of improvisation is a much-needed necessity for modern choreographers. Creating art with the body becomes a reality through the "unfamiliar" and "uncomfortable."
"As artists, we play highly valuable and significant roles in our communities and culture," Johnson said. "One of the most important is that of risk taking. Asking ourselves to push into unexplored territory is vital. We then are able to offer insights, viewpoints and perspectives that might have been completely missed before."
The book explores how to listen to and express one's creative voice, engage in creative processes and what practices work for each person as a choreographer, along with practical advice on rehearsal and performance etiquette. Digital ancillary QR codes enhance the book, giving users immediate access to resource materials.
Those desiring to choreograph professionally will gain insight into what it takes to keep an improvisational mentality, the most basic tool for dance-making.
The Art of Listening: Improvisation and Intuition for Choreography, officially released April 21, is available through all major book distributors and retail bookstores or directly from TSTC Publishing. For more information, contact marketing manager Sheila Boggess at 254-867-3208 or Sheila(dot)boggess(at)tstc(dot)edu.
Established in 2004 as the publishing arm of the Texas State Technical College System, TSTC Publishing offers faculty throughout the country the opportunity to initiate and participate in a variety of book development projects. TSTC Publishing projects now include such ancillary products as instructor guides, student workbooks, CD-ROMs, DVDs, ebooks and companion websites. In addition to offering editorial help and guidance to faculty, assistance also is available in the areas of materials production, distribution and sales.