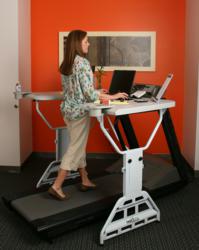 Sign the petition to get America up and moving again at: http://www.change.org/petitions/america-s-10-000-steps-a-day-challenge
Scottsdale, AZ (PRWEB) April 26, 2012
America is in the midst a health epidemic. Currently, 2 out of every 3 U.S. adults are overweight with half of this number clinically obese. U.S. health care costs now account for 17% of GDP, with costs escalating at unsustainable rates for individuals and businesses alike. The health of America has become the largest threat to its economic competitiveness, security, and long term prosperity. TrekDesk Treadmill Desks, determined to change this health dynamic, has launched a petition on Change.org imploring the nation's leaders to pass initiatives designed to get Americans up and moving again.
While American diets are often cited as the reason for the nation's health challenges, inactivity levels pose a much greater problem. While Americans consume less than 100 calories per day more than during the 1960's (when only 14% of the adult population was overweight) Americans now walk less than half the amount of steps averaged during that time. This inactivity has spawned extreme health challenges to the nation, including the young, with some states reporting rates of overweight children exceeding 40%.
There are 58 obesity related diseases, including the top 3 killers: heart disease, stroke and diabetes. Each of these diseases is either a direct result or exacerbated by a lack of physical activity. Consider the following improvements that could be made to the nation's health landscape if Americans walked 10,000 steps each day (5 miles):
1. Reduce the initial rate of heart attacks by 90% (source: AHA)
2. Reduce the rate of stroke by 70% (source: AHA)
3. Reduce the rate of Type 2 Diabetes by 50% (source: ADA)
4. Reduce the rates of cancers by 30% -70% (source: NIH)
"We are asking Americans to please petition Congress, the President, and members of their state government to set minimum standards of movement within schools and workplace environments that ensure every American the opportunity to a healthy life," stated TrekDesk CEO Steve Bordley. "Change.org makes it a simple process to join the movement in a matter of moments online."
Sign the petition to get America up and moving again at: http://www.change.org/petitions/america-s-10-000-steps-a-day-challenge
About TrekDesk Treadmill Desks: Designed to fit any existing treadmill, TrekDesk treadmill desk is an affordable, full sized, height adjustable workstation that allows individuals the opportunity to gain the necessary amount of exercise daily to maintain health, prevent disease, strengthen muscles, boost mood and productivity, without requiring additional time during the day or extra motivation. Let TrekDesk show you how to workout at work.
TrekDesk is currently available for sale online at http://www.trekdesk.com.
Join the TrekDesk "Movement Revolution" to learn more, win a free TrekDesk or ask any health related questions anytime at http://www.facebook.com/trekdesk, or follow TrekDesk on twitter -http://www.twitter.com/trekdesk.